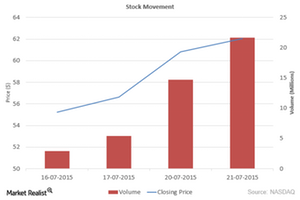 How Did the Market React to GoPro's Earnings Announcement?
By Parker Thomas

Updated
Market reaction
There was a positive reaction among investors before the earnings announcement. The volume rose from 2.88 million on July 16, 2015, to 21.69 million on July 21, 2015. There was a slight rise in the stock price by 12.30%—from $55.24 on July 16 to $62.04 on July 21. GoPro (GPRO) shares are still on a continued buying trend. This leads to a rise in the share price. Citigroup upgraded GoPro's share from a "neutral" rating to a "buy" rating in its research report on July 31, 2015.
Article continues below advertisement
GoPro's revenue exceeded the forecast
GoPro's revenue has risen by 72% in 2Q15—compared to the same quarter the previous year. It was mainly driven by strong demand from Europe and Asia. GoPro declared its overall revenue of $420 million. This exceeds the forecast between $380 million and $400 million. In the above graph, you can see the fall in price by 2% the day after the result were announced. GoPro is facing tough competition. It offered limited products to the higher segment. This creates concern among investors. It might have caused the fall.
The iShares Russell Mid-Cap ETF (IWR) has a 0.08% holding in Garmin (GRMN). Garmin has rolled out numerous HD video cameras with an additional feature of real-time data collection and display. It's priced closer to GoPro's HERO. The Vanguard FTSE All-World ex-US ETF (VEU) has a 0.17% holding in Sony (SNE). Sony's new FDR-XNV-1000X is providing tough competition for GoPro. Sony FDR shoots true 4K video at 30 frames per second. Its SteadyShot image stabilization feature pushes GoPro.