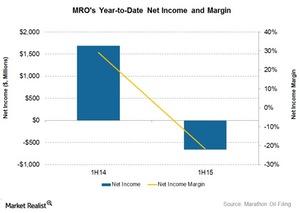 How Did Marathon Oil Perform in 1H15?
By Alex Chamberlin

Aug. 27 2015, Updated 2:06 a.m. ET
Marathon Oil's revenue in 1H15 
After analyzing Marathon Oil's (MRO) 2Q15 performance, we'll discuss its YTD (year-to-date) revenue and earnings. Marathon Oil recorded ~$3.06 billion in total revenue and other income for 1H15. It fell 47% from ~$5.79 billion in 1H14. Its 1H15 average crude oil price realization, as well as its International E&P (exploration and production) segment's production volume, fell compared to the average levels in 1H14.
Marathon Oil's 1H15 net income swung to a loss of $662 million—compared to ~$1.69 billion in net profit last year. The net income margin was -21.60% in 1H15—compared to a margin of 29.20% in 1H14. The bulk of the fall in crude oil prices was in 2H14. The number in 1H15 reflects this fall.
Article continues below advertisement
What affected Marathon Oil's YTD net income?
Marathon Oil's North America production volume rose in all three product categories in 1H15—compared to 1H14. This was primarily due to 42% and 41% higher 1H15 production in the Eagle Ford and Oklahoma Resource Basins over 1H14, respectively. In contrast, the crude oil and condensate production volume fell 8.60% in its international operations, while the natural gas volume from international operations fell 10.40% during the same period.
In North America, Marathon Oil's 1H15 crude oil and condensate price realization fell 50% compared to 1H14. Its natural gas and NGL (natural gas liquid) price realizations fell 44% and 62%, respectively. In comparison, the fall in natural gas and NGL realized prices from its international operations were milder. They fell by 2.50% and 9.60%, respectively, during the same period. The International E&P segment's crude oil price fall was similar to the North America E&P segment at 46%.
Operating income in 1H15
Marathon Oil's North America E&P segment's operating income fell by $206 million in 1H15—compared to a $544 million operating profit in 1H14. The company's International E&P segment performed better. It fell 83% during the same period. The Oil Sands Mining segment crashed to a $96 million net operating loss from a $119 million net operating income the year before.
In 1H15, Marathon Oil's EBITDA (earnings before interest, tax, depreciation, and amortization) fell 64% compared to the year before. Concho Resources' (CXO) EBITDA fell 10% during the same period. Whiting Petroleum's (WLL) 1H15 EBITDA fell 55% from 1H14 to 1H15. Marathon Oil accounts for 0.85% of the iShares US Energy ETF (IYE) and 0.87% of the Vanguard Energy ETF (VDE).