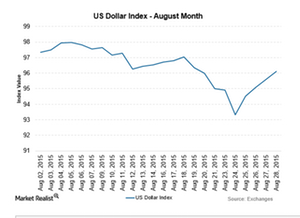 Key Takeaways from the Jackson Hole Symposium
By David Meyer

Updated
Jackson Hole Symposium
The annual Jackson Hole Symposium in Wyoming attracts a high-profile audience including finance ministers, central bankers, and academics from around the world. Since the comments and speeches from the major central bankers and policymakers can impact the market, it's essential that the speeches are analyzed in depth.
First, we'll capture the major takeaways from the speeches by FOMC members Dennis Lockhart and Stanley Fischer. Then, we'll look at other bankers including the BOE (Bank of England), Governor Mark Carney, and SNB (Swiss National Bank) Chairman Thomas Jordan.
Article continues below advertisement
FOMC members
Dennis Lockhart is the president of the Atlanta Federal Reserve. He spoke in a Bloomberg Television interview in Jackson Hole. He suggested that the recent data have been positive. However, he added that the risks have also risen from the beginning of the month. He believes in a gradual interest rate hike. When it happens, he added that there's a 50% chance of a September rate hike. He expects growth to slow down in the third quarter—compared to the second quarter.
Stanley Fischer is the vice chairman of the Federal Reserve. He delivered a speech at the conference. He said that the Fed is monitoring the Chinese development closer than usual after the recent monetary policy actions by the PBOC (People's Bank of China). He believes that the Fed shouldn't wait until the 2% inflation target is reached. There's a substantial lag between monetary policy action and the time it takes to influence real activity. Towards the end of his speech, Fischer said that the Fed will also look at the effects that a rate hike will have on the global economy. It will try to meet both domestic and global objectives.
Impact on the market
The US Dollar Index has been rising for four days starting on August 25, 2015, after the interest rate cut by the PBOC. Apple (AAPL) has also been rising for the past four days. It rose by 9.86%. The SPDR S&P 500 ETF (SPY) and the SPDR S&P MidCap 400 ETF (MDY) rose by 5.16% and 4.66%, respectively, over the same period.
Banking stocks saw a slight fall on August 28, 2015. The Bank of New York Mellon (BK) and Bank of America (BAC) fell by 0.32% and 0.49%, respectively.