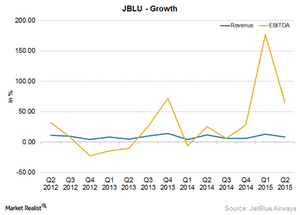 Looking at Investing in JetBlue, Even without Dividends
No dividend
Dividends are the most prominent ways of returning cash to shareholders and affirming that the company is confident about its long-term profitability. While all the players in the airline industry—including Delta Air Lines (DAL), United Continental (UAL), American Airlines, (AAL), and Southwest Airlines (LUV)—have either started or increased dividend payouts in the past few quarters, JetBlue Airways (JBLU) currently pays no dividends.
JetBlue is in its growth phase and prefers to utilize its cash receipts to fund business growth and reduce debt levels. The airline has plans to invest about $6.67 billion for purchasing 127 additional aircraft and ten spare engines through 2023.
Article continues below advertisement
Share repurchases
Although JetBlue does not pay dividends, the company does help grow its earnings per share with a share repurchase program. The company recently announced that it paid $150 million and received 6.1 million shares in its accelerated share repurchase program.
As the company continually reduces debt levels and aims for better financial stability in the future, its investors can expect the company to shell out more cash for its shareholders in either the form of dividends or share repurchases.
Stock performance
JetBlue's (JBLU) stock has shown robust performance, especially in the past two years, driven by its high growth prospects. The company's stock has grown by 249% in the last two years, beating 23% growth of the S&P SPDR ETF Trust (SPY) and the airline industry's (XAL) average growth of about 100%.
Investors can get exposure to airlines by investing in the iShares Transportation Average ETF (IYT), which has ~16.85% of its holdings in airline stock.