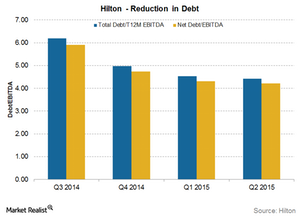 Why Investors Shouldn't Worry about Hilton's Debt
By Ally Schmidt

Updated
Strong room growth
During 2Q15, Hilton Worldwide opened 82 hotels and its revenue rooms grew by over 11,000, the largest increase in Hilton's history. The company has an industry-leading pipeline and number of rooms entering construction. At the end of the quarter, the company had 4,440 properties and more than 730,000 rooms. Its pipeline stood at nearly 265,000 rooms, including all approved deals.
Article continues below advertisement
Cash levels
At the end of the first half of the year, Hilton's cash and cash equivalents totaled $759 million, which included $248 million of restricted cash and cash equivalents. This also led to the company initiating a regular quarterly cash dividend of $0.07 per share.
Debt reduction
Hilton has been focused on reducing its high debt levels and pays about $200 million in debt every quarter. This constant effort has helped the company reduce its debt levels to $750 million at the end of 1H15. The company used its proceeds from the Hilton Sydney sale to pay out quarterly and additional loans.
Hilton reduced its long-term debt by $175 million in the quarter and also prepaid an additional $350 million of the term loan. Hilton's net debt to adjusted EBITDA, which was as high as 10.5x five years back, now stands at 3.7x. The company aims to bring it down to 3.5x in the next two quarters.
The company is consistently trying to bring its debt levels down with an aim to become an investment-grade company. The efforts are turning out to be fruitful and its debt levels are far below what they were five years ago. However, the debt levels still remain high at above $10 billion.
A major part of the company's long-term debt is payable in the coming six years, which could affect its cash flows. The company would need to put in most of its cash for debt repayments, and in the worst case, it might even need to add new debt to pay old debt.
The Consumer Discretionary Select Sector SPDR Fund (XLY) invests in hotel companies. Though XLY does not have any holdings in Hilton, 0.62% of its holdings are in Marriott (MAR), 0.56% of its holdings are in Starwood (HOT), and 0.41% of its holding are in Wyndham (WYN).