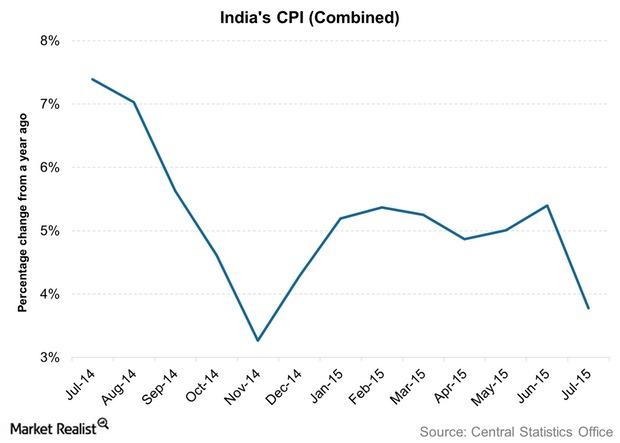 India's Consumer Price Index Is Tethered but Risky
By David Ashworth

Dec. 4 2020, Updated 10:52 a.m. ET
India's consumer price index
In November 2014, India's CPI (consumer price index) was down ~3%. This decline was due to a fall in crude oil prices, which hammered stocks like Kinder Morgan (KMI), ConocoPhillips (COP), and Chevron Corporation (CVX), as well as related ETFs like the United States Oil Fund (USO) and the Shares Dow Jones US Energy Sector (IYE)—from which India had been benefiting. The RBI's (Reserve Bank of India) decision to decrease the base-effect—particularly when a high base keeps index rises low—caused the subsequent rise. Consequently, as the rate was below the RBI's target of 6% by January 2016, the bank took rate action in January 2015.
Article continues below advertisement
As seen in the graph, the rate for June 2015, when inflation rose to 5.4%, reflects the rise in crude prices. However, one week after the policy announcement in August, the CPI showed that inflation had fallen to 3.8%—the slowest rise in eight months. The WPI (wholesale price index) was further depressed, contracting by 4.1% in July. To know more about these measures of inflation, please refer to our article "India's Different Inflation Measures—WPI versus CPI."
Why no rate action?
Inflation—primarily the change in consumer price index—lies at the heart of India's monetary policy direction. The fall in inflation shows that the RBI had headroom to make a further rate reduction. So why did it maintain the status quo in August?
Apart from the rate cuts not being transmitted by banks fully, the RBI cited the rise in core inflation, which excludes food and fuel prices, as one of the major reasons it resisted rate action.
Rate cuts are intended to raise economic activity. Such cuts, in turn, fuel inflation. Of course, if core inflation is already on the rise, a rate cut would only fuel inflation further. But monetary policy actions take time to go into effect. Since a rate cut had been announced only two months earlier, the RBI must have considered it prudent not to effect a further reduction.
In the next article of this series, we'll look at how Indian equities have fared so far in 2015.