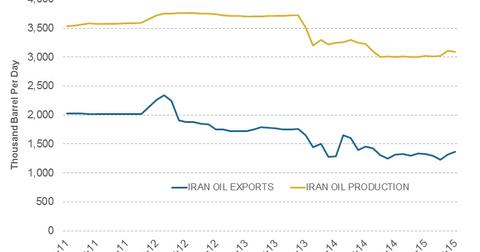 Impact of the Iran Nuclear Deal on the Crude Tanker Industry
By Sue Goodridge

Aug. 26 2015, Published 11:04 a.m. ET
Iran nuclear deal
In July, the Iran nuclear deal was signed. Under this agreement, Iran will now export goods, including oil. This will have a mixed effect on the crude tanker industry. Over the years, Iran's oil production and exports have decreased.
Article continues below advertisement
Oil supply
In an already oversupplied market, Iran says it can boost its exports by 1 MMbpd (million barrels per day) within six months. This will add to the total available supply of oil, which will put a downward pressure on oil prices.
Part of this effect on oil prices has already been incorporated by the market. Oil prices (DBO) dropped on prospects of increasing Iranian oil exports. In August 2015, the World Bank said sanctions on Iran will lower oil prices by $10 per barrel next year. Lower oil prices encourage countries to stockpile oil, which increases the demand of crude tankers.
Tanker supply
Iran has a minimum of 19 VLCCs (very large crude carriers) used for offshore storage. According to industry analysts, some of this oil will be sold before official sanctions are lifted. One such tanker has already left floating storage and is back in a marketable fleet. Once these tankers are back in action, the total marketable fleet will increase, which will push down VLCC rates.
Ton-mile demand
Currently, China, India, Japan, and South Korea are the largest customers for Iranian oil. Since Iran is closer to Asian countries, countries like China and India are expected to replace their crude oil imports from the Atlantic Basin with Iran. Replacing a longer route with a shorter one will negatively impact the ton-mile demand. This will hamper companies like Teekay Tankers (TNK), Tsakos Energy Navigation (TNP), Nordic American Tankers (NAT), DHT Holdings (DHT), Frontline (FRO), and Euronav (EURN).