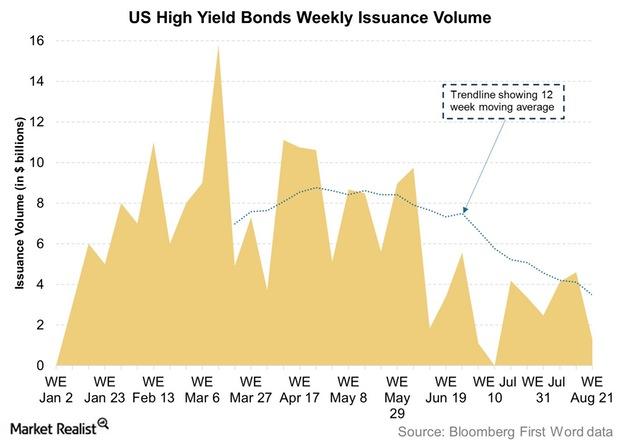 Why Has High-Yield Bond Issuance Fallen?
By David Ashworth

Aug. 27 2015, Published 1:05 p.m. ET
Deals and flows analysis in high-yield bond markets
High-yield bond (JNK) (HYG) issuance has clearly fallen as 2015 has progressed, as you can see in the graph below. We've added a 12-week moving average trend line to make the fall even clearer. The trend line averages the issuance for the previous 12 weeks, thus giving a smoother curve, which gives you a better indication of how issuance has panned out, taking 12 weeks at a time.
According to data from S&P Capital IQ/LCD, dollar-denominated high-yield debt amounting to $205.6 billion has been issued in 2015 until August 21. This is lower by 3.0% from the same period a year ago.
Article continues below advertisement
Refinancing issues dominate
For most of the first five months of 2015, issues related to refinancing needs dominated the primary market for high-yield bonds. This was because yields on these bonds were low, making fund raising cheaper than before. However, since the beginning of June, deals for refinancing have been off and on, while deals related to acquisitions and for general corporate purposes have taken center stage.
Since the beginning of June, companies related to the energy, technology, and industrials sectors have frequently been visiting the primary market for high-yield bonds for funding needs.
Notable issuances
Valeant Pharmaceuticals (VRX), a manufacturer of pharmaceuticals, over-the-counter medicine, and medical devices, issued dollar-denominated high-yield bonds worth $8.5 billion in March. This was to back its $14.5 billion acquisition of Salix Pharmaceuticals (SLXP).
Other notable issuers included ZF Friedrichshafen, a German car parts maker, which issued dollar-denominated bonds worth $3.5 billion in April. It issued these bonds to acquire US-based TRW Automotive Holdings (TRW).
GTECH S.p.A., the lottery and gaming company, issued bonds worth $3.2 billion in February. Fiat Chrysler Automobiles (FCAU) issued high-yield bonds worth $3 billion in April. Tenet Healthcare (THC) issued junk bonds worth $2.8 billion in June, and Charter Communications (CHTR) issued junk bonds worth $2.7 billion in April.
In the next article, we'll look at the overall picture that emerges from our analysis.