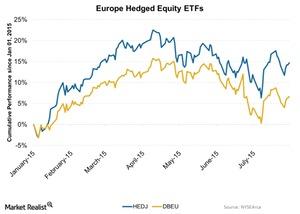 HEDJ Continues to Outperform DBEU So Far in 2015
By Renee Blakely

Aug. 16 2015, Updated 5:06 a.m. ET
Europe Hedged ETFs have been rising along with equity
As of August 3, 2015, the one-month returns for the WisdomTree Europe Hedged Equity ETF (HEDJ) and the Deutsche X-trackers MSCI Europe Hedged Equity ETF (DBEU) were 4.21% and 3.20%, respectively. The YTD (year-to-date) return was 16.18% for HEDJ and 7.79% for DBEU. The yearly returns for HEDJ and DBEU were 15.87% and 6.16%, respectively. Their annual dividend yields were 2.32% and 7.54%, respectively. The annual dividend yield measures how much cash flow in a year you get for the amount invested in a security.
European equity has largely been following a rising trend so far this year, boosted by the European Central Bank's monetary stimulus. Anheuser-Busch Inbev (BUD), Telefonica (TEF), and Nestle (NSRGF) have returned 8.06%, 1.40%, and 4.16%, respectively, YTD.
Article continues below advertisement
HEDJ and DBEU: Which is riskier?
Volatility indicates the extent to which the return of the underlying asset can fluctuate. It's the range of the dispersion of returns for a given security or portfolio. It's measured by standard deviation. The standard deviation is 4.42% for HEDJ and 1.59% for DBEU. The higher the volatility, the riskier the investment.
An investment's beta measures the uncertainty or risk of that security relative to the market movement. A beta of 1 implies a movement of stock prices and the market in tandem. A beta of less than 1 implies lower volatility, and a beta higher than 1 implies higher volatility.
Here, the betas are -2.2 and -1.84 for HEDJ and DBEU, respectively. A negative beta indicates an inverse relationship to the market. This implies that, when markets are down, HEDJ and DBEU tend to rise. So, in effect, they serve their purpose of hedging an investment's downside risk well. From the above graph, we can see that HEDJ and DBEU's movements are in tandem with each other and the extent of their fluctuations is the result of their respective volatility and betas.
Let's have a quick look at certain ETFs that offer a similar hedge against volatility in the Japanese yen. See the next part of this series.