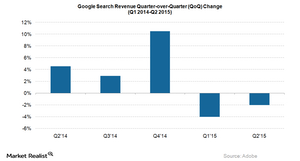 Why Did Google Create Alphabet?
Why the new structure?
As discussed in the previous part of this series, Google (GOOG) recently announced the creation of its parent company, Alphabet. The main objective of Alphabet is to streamline its varied businesses and focus on opportunities for new initiatives under the Google brand. With the new structure in place, Alphabet will focus on Google's core businesses—its search engine and advertising.
The new businesses include self-driving cars, the drone arm, Nest, Google Ventures, and Calico. They will operate under Google. Google Ventures is Google's venture and capital division, and Calico is Google's research and development entity.
Article continues below advertisement
Google's core business: searches and ads
Although Google (GOOG) is diversifying its business with offerings such as self-driving cars and shopping features on YouTube, its core businesses remain searches and advertising. Online advertising contributed 89%–90% of Google's total revenues for the past five quarters. According to a survey conducted by Adobe, Google's search advertising business has flatlined quarter-over-quarter.
Growth in Google's search revenue dropped in 1Q15 due to the holiday season. The holiday season, or the quarter ending in December, is the most lucrative quarter for businesses. In 2Q14, Google's quarter-over-quarter growth for search revenue was 4.5%. It declined by 2% in 2Q15.
The reason for Google's search advertising business flatlining is the shift in marketers' spending on mobile and other digital advertising platforms. Advertising rates on mobile devices are much lower, partly due to the smaller screen sizes of mobile devices.
Google still dominates the search engine market
In terms of consumer choice for a search engine on desktop computers, Google's position remains unaffected. According to comScore, AOL (AOL) accounts for 1.2% of searches on desktop computers. Microsoft (MSFT) handles around 20% of searches, and Yahoo! (YHOO) accounts for 12.7%. Google dominates with a market share of 64.1%.
For diversified exposure to Google, you can invest in the Technology Select Sector SPDR ETF (XLK). XLK invests 3.8% of its holdings in Google.