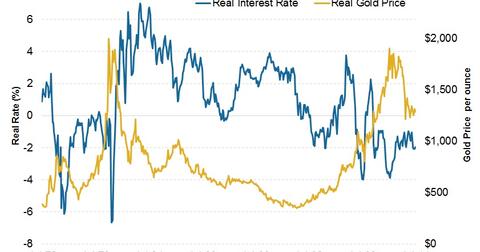 Gold and Its Relationship to Quantitative Easing
By Meera Shawn

Aug. 9 2015, Updated 11:30 p.m. ET
Current scenario
With the Greece crisis settling down during the last few months, gold prices could have potentially shown its safe-haven appeal. Investors could have seen gold rally. However, the scenario didn't unfold as expected—precious metals fell.
ETFs like the SPDR Gold Trust (GLD) fell close to 8.20% on a YTD (year-to-date) basis. The 30-day trailing return fell 7.21%. Mining stocks like Kinross Gold (KGC), Harmony Gold Mining (HMY), Sibanye Gold (SBGL), and Yamana Gold (AUY) were among the top losers on July 30, 2015.
Article continues below advertisement
Quantitative easing and gold
QE (quantitative easing) is a measure taken by the central bank when an economy is deteriorating. The central bank takes initiatives to raise the money supply and lower the interest rates. This enables people to borrow more money and increase spending. The borrowing, followed by spending, keeps the economy abreast and encourages further buying. It increases asset prices.
Since the economy has currently stabilized and rate hikes are on the cards, according to the FOMC (Federal Open Market Committee), gold prices are taking a downward ride. The current scenario is contrary to what could have happened under QE. With rising US and global interest rates, gold prices have fallen close to 8% on a YTD basis. Due to monetary policy tightening, the long-term outlook remains fairly bearish for the precious metals.
Demand from Asia
In 2013, the fall in precious metals prices got some relief from the Indian and Chinese market's physical gold buying. The current lower demand by these consumer markets for jewelry and other uses is adding to the downward momentum. The volume for gold isn't huge under the current scenario. This gives investors less hope.