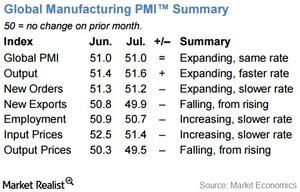 Global Manufacturing Enters the Third Quarter Tepidly
By Surbhi Jain

Updated
J.P. Morgan Global Manufacturing PMI report
From August 3 to 5, Markit Economics released its final July PMI (purchasing managers' index) report for the United States (SPY), the Eurozone (HEDJ), and Asia. It also released its Global Manufacturing PMI report for July.
Produced by J.P. Morgan (JPM) and Markit in association with the ISM (Institute for Supply Management) and the IFPSM (International Federation of Purchasing and Supply Management), the report indicated that global growth in the manufacturing sector entered the third quarter at a muted pace.
Article continues below advertisement
Global manufacturing growth remained muted in July
The composite index remained unchanged at 51 in July from June. The summary report indicated that global PMI expanded at the same pace in July as in June. Increases in employment, input prices, and new orders came at a lower pace in July while exports fell. Multinational companies such as Nike (NKE) and Coca-Cola (KO) have seen variability in their earnings on account of a global growth slowdown.
Global manufacturing enters the third quarter tepidly
The report stated, "The strongest expansions in production were in the Czech Republic, the Netherlands, Italy, and Poland. The US also remained close to the top of the global manufacturing output growth league table, seeing its rate of expansion pick up to a three-month high. The Eurozone's manufacturing sector largely shouldered the immediate impact of the Greek debt crisis, as manufacturing output in the region expanded at the fastest pace in June-July over the past 14 months. Alongside the robust growth in the Netherlands and Italy, production also rose in Germany, Spain and Austria. France reported a mild contraction."
In this series, we'll take you through each of these reports. Let's find out where industrial activity is picking up and where it's lagging in the next part.