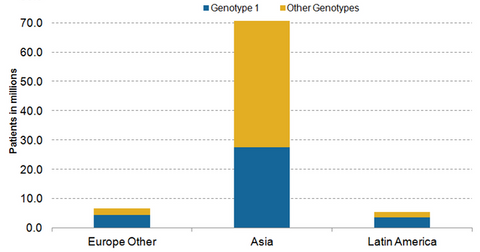 Gilead's Strategy to Increase Global Access to HIV and HCV Drugs
By Margaret Patrick

Updated
Global access
Gilead Sciences (GILD) has entered into several arrangements that provide access to its HIV and HCV (hepatitis C virus) drug portfolio to people in emerging economies. About 7 million patients with HIV in low- and middle-income countries have benefited from Gilead's efforts to increase access to drugs.
The above graph shows the prevalence of HCV in emerging markets such as Eastern Europe, Asia, and Latin America.
Article continues below advertisement
HCV access
For the years 2014 and 2015, Gilead Sciences has announced nonexclusive licensing agreements with 11 Indian generic manufacturers for HCV drugs. The company will mainly earn revenues from the licensing fees paid by the generic manufacturers. HCV drugs also include the company's blockbuster drugs Sovaldi and Harvoni. Since the pricing of these drugs is beyond the purchasing capacity of the average patient in emerging economies, Gilead Sciences has given access to them through less expensive, generic drugs. With more than 100 million people afflicted with HCV in emerging markets, these agreements aim to distribute the drugs across 91 developing countries.
HIV access
To provide access to Gilead's HIV drugs to about 30 million HIV patients, the company entered into licensing arrangements with eight Indian generic manufacturers in 2006. The company has been developing improvised HIV drugs with stronger safety profiles. Unlike the existing drugs, which are based on a compound called tenofovir disoproxil fumarate, or TDF, the new range of drugs will be based on a compound called tenofovir alafenamide, or TAF. Gilead has enabled access to the TAF-based drugs to about 8 million HIV patients in developing countries, mainly through the Medicines Patent Pool, or MPP.
The MPP, a United Nations-backed organization, has entered into agreements with major pharmaceutical and biotechnology companies such as Gilead Sciences, Bristol-Myers Squibb (BMY), AbbVie (ABBV), and Merck (MRK). These agreements enable 14 generic manufacturers, together in India and China, to offer anti-HIV drugs in low-income countries, even while the original drugs have not lost their patent.
Gilead Sciences has announced a new agreement with MPP allowing the organization to sublicense the new TAF-based HIV drugs to generic manufacturers. This agreement is subject to approval from the FDA. If effective, these drugs will be distributed in 112 developing countries around the world.
Investors can gain exposure to Gilead Sciences' emerging market strategy, yet avoid company-specific risks, by investing in the iShares NASDAQ Biotechnology ETF (IBB). IBB holds 7.89% of its portfolio in Gilead Sciences' stock.