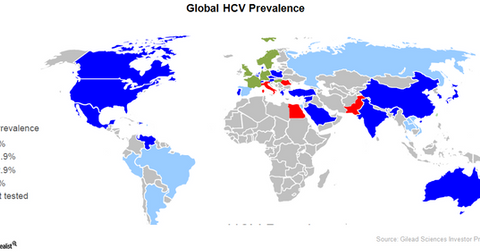 Gilead's Hepatitis C Portfolio: 2 Key Drugs
By Margaret Patrick

Aug. 20 2015, Updated 10:06 a.m. ET
HCV (hepatitis C virus) portfolio
Gilead Sciences' two hepatitis drugs, Sovaldi and Harvoni, have catapulted the company to dominance in the HCV market. Launched in 2013 and 2014, these two drugs managed to cross the $1 billion revenue mark and achieve blockbuster status in the first full quarter post-commercialization. By 2Q15, about 470,000 HCV patients in the world were being treated by Sovaldi and Harvoni.
Globally, there are about 185 million people afflicted with HCV. This indicates the scale of opportunity available to Gilead Sciences in the HCV treatment market.
Article continues below advertisement
Gilead's HCV drugs
In December 2013, the FDA-approved Sovaldi, the brand name for sofosbuvir. Gilead acquired sofosbuvir through acquisition of Pharmasset in 2012. Harvoni is an improvised version of Sovaldi, combining a compound called ledipasvir with sofosbuvir.
The above graph shows that Sovaldi managed to garner annual sales worth $10.3 billion in 2014. Since the launch of Harvoni in 3Q14, Sovaldi's revenues have declined. Harvoni has earned revenues of about $9.3 billion in the first three full quarters after its launch in the US market.
HCV overview
Hepatitis C virus is classified into six genotypes. Each genotype is further divided into subtypes. According to Hepatitis Central, "A genotype is a classification of a virus based on the genetic material in the RNA (ribonucleic acid) strands of the virus." There are about 4 million people suffering from HCV in the United States, of which 79% belong to genotype 1. Other developed markets such as the big five European market of the United Kingdom, Germany, France, Italy, and Spain and the Japan market have about 2.6 and 1.1 million HCV patients, respectively. About 63% and 67% of the total HCV patients in Europe and Japan, respectively, belong to genotype[1. According to Hepatitis Central, genotype 1 is the most difficult HCV genotype to treat.]
Article continues below advertisement
Drug overview
Prior to the launch of Gilead's Sovaldi and Harvoni and AbbVie's (ABBV) VIEKIRA PAK, HCV patients were treated with interferon therapy injected subcutaneously, or under the skin. These drugs were to be administered for 48 weeks, displayed low efficacy, and resulted in greater side effects. This market was mainly dominated by Roche (RHHBY) and Merck (MRK).
Gilead's Sovaldi was the first one-pill-a-day oral regimen approved for HCV by the FDA, which reduced the treatment cycle to 12 weeks and demonstrated a cure rate of about 90%. Sovaldi is effective in treating HCV patients suffering with genotypes 1, 2, 3, and 4. This was followed by another oral therapy, Harvoni, approved by the FDA for genotype 1. Though clinical trials have proved that Harvoni is effective in genotype 3 patients, lack of FDA approval might make it difficult for patients to obtain reimbursement from health insurance companies.
While Harvoni has been proved more effective in genotype 1 patients, Sovaldi continues to be the only FDA-approved drug for patients with genotypes 2, 3, and 4. Thus, although genotype 1 patients continue to switch to Harvoni, Sovaldi continues to dominate the market for genotypes 2, 3, and 4, which account for about 32% of the total HCV patients in the United States. Bristol-Myers Squibb (BMY) has also launched its drug Daklinza in the HCV market.
Investors can get exposure to Gilead's strong HCV portfolio while reducing company-specific risks by investing in the iShares NASDAQ Biotechnology ETF (IBB). IBB invests 7.89% of its portfolio in Gilead Sciences' stock.