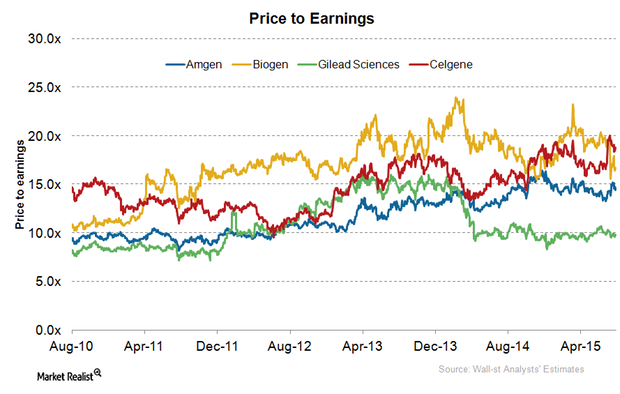 Gilead Sciences' Valuation Continues to Lag behind Peers
Gilead Sciences valuation
The valuation of biotechnology companies (IBB) depends on two key factors: net profits earned by the drugs already launched in the market and the expected future profits from the drugs in the company's research pipeline.
Post-2014, Gilead Sciences has traded at lower valuation multiples as compared to its peers in the biotechnology industry.
The above graph shows the current PE (price-to-earnings) ratio of leading biotechnology players Gilead Sciences (GILD), Amgen (AMGN), Biogen (BIIB), and Celgene (CELG).
Article continues below advertisement
Relative valuation
Relative valuation using PE multiples can provide limited insight to the true value of a biotechnology company. Because a large portion of a biotechnology company's value is derived from its R&D (research and development) assets, as well as the flexibility to continue or abandon R&D, discounted cash flow valuation, or DCF, and real option valuation prove to be more effective valuation techniques.
However, both methods are extremely sensitive to inputs related to future riskiness and returns of the company. So, wrong inputs can return erroneous company values. Relative valuation, however, can help to understand the value attributed by the market to a biotechnology company.
Gilead Sciences' fundamentals
Since 2013, Gilead Sciences has introduced two blockbuster HCV (hepatitis C virus) drugs, Sovaldi and Harvoni. The compound sofosbuvir, which forms the base of the two drugs, was obtained through the acquisition of Pharmasset in 2012. Additionally, the company has several innovative drugs in the HIV space as well as areas such as oncology and treatment of respiratory and cardiovascular diseases.
Investors, however, seem to undervalue Gilead's potential, as they're uncertain of the company's ability to continue its leadership in the global HIV market. Gilead's HIV medications contain a drug called tenofovir disoproxil fumarate, or TDF, which is expected to lose its patent protection in 2018. Generic competition is thus expected to reduce the profitability of Gilead's existing HIV drugs. The company is researching new HIV drugs based on another compound called tenofovir alafenamide, or TAF. However, investors are skeptical and believe patients may switch to competitor drugs, thus leading to loss of revenues.
Additionally, the increased pricing pressures on Gilead's Sovaldi and Harvoni, due to a high number of innovative drugs launched in the HCV space, have led to further apprehensions in the investor community. Alhough Gilead Sciences has launched the promising compound idelalisib, or Zydelig, in the oncology space, it hasn't been well received by patients. This has added to the uncertainty regarding Gilead's future performance, further dampening the company's valuations.
Investors can invest in Gilead Sciences, yet avoid unique company risks, by investing in the iShares NASDAQ Biotechnology ETF (IBB). IBB holds 7.89% of its total holdings in Gilead Sciences.