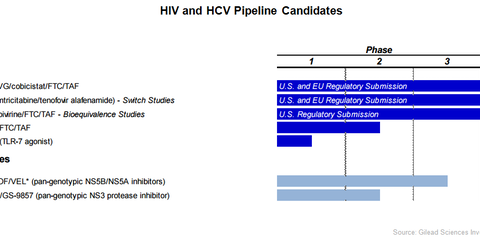 Gilead Sciences' Research and Development in HIV and HCV
By Margaret Patrick

Updated
Research and development
Gilead Sciences (GILD) has been actively researching new drugs and other indications for existing HIV and HCV (hepatitis C virus) drugs. The company spends about 23% of its total revenues on research and development, or R&D.
The above graph shows the pipeline candidates for Gilead Sciences' HIV and HCV portfolio at the end of second quarter 2015.
Article continues below advertisement
HIV candidates
Gilead Sciences has been developing multiple HIV drugs based on a new compound called tenofovir alafenamide, or TAF. The existing HIV portfolio of Gilead Sciences is based on a compound called tenofovir disoproxil fumarate (or TDF), brand name Viread. Viread is expected to lose its patent protection in 2018. Also, the company has entered into an agreement with Teva Pharmaceuticals (TEVA) allowing the latter to introduce a generic version of Viread after December 15, 2017. Hence, Gilead Sciences has had to focus on developing superior drugs to protect its HIV market share from generic competition.
Clinical trials have proven that TAF-based drugs aren't inferior to TDF-based drugs in efficacy. Besides, they produce fewer side-effects related to the bones and kidneys than those caused by TDF-based drugs. The better safety profile makes the TAF-based drugs an important innovation for newly diagnosed HIV patients, who will receive these treatments for decades. Gilead Sciences has three TAF-containing drugs under review, expected to be approved at the latest by the first half of 2016. Another compound, GS-9883, is in phase II trials and is being compared with GlaxoSmithKilne's (GSK) and Pfizer's (PFE) dolutegravir, also called Tivicay. The results are expected by the first quarter of 2016. Additionally, GS 9620, currently in phase I trials, is being researched as a complete cure for HIV patients.
Article continues below advertisement
HCV candidates
Currently, Harvoni is approved in the United States for the treatment of HCV genotype 1 patients only. Gilead Sciences has submitted three supplemental new drug applications, or sNDAs, to the FDA for expanding the indicated use of Harvoni. If approved, Harvoni will be used to treat HCV, HIV-coinfected patients as well as patients with genotypes 4, 5, or 6 and cirrhotic patients. The FDA's decision on these three indications is expected by November 2015.
Gilead is also developing an oral, three-drug regimen currently in phase II and phase III trials. Designed to be effective for all HCV genotypes, the regimen contains sofosbuvir (or SOF); the investigational NS5A inhibitor GS-5816, also called VEL, or Velpatasvir; and GS-9857, an investigational NS3-4A protease inhibitor. If approved, these drugs will likely prove to be major blockbusters for Gilead Sciences.
Investors can have exposure to Gilead Sciences' strong HIV and HCV pipeline, yet avoid company-specific risks, by investing in the iShares NASDAQ Biotechnology ETF (IBB). IBB holds 7.89% of its portfolio in Gilead Sciences' stock.