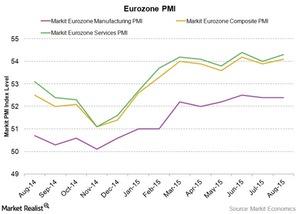 Germany Helps Eurozone Business Activity Rise in August
By Surbhi Jain

Dec. 4 2020, Updated 10:53 a.m. ET
Great expectations from the Eurozone on the ECB stimulus
Investors in the Eurozone expect positive economic news from the area these days, especially post-March 2015. The ECB's (European Central Bank) bond-buying program, intended to spur economic activity in the Eurozone, boost inflation, and rescue the economy from deflation, has been in effect since March of this year.
However, the positive indicator news released on Friday wasn't enough to cushion the drop in European equity. China's stock market crash and economic slump is weighing down all major world markets, including Europe. The Vanguard FTSE Europe ETF (VGK) and the SPDR EURO STOXX 50 ETF (FEZ) were down 2.83% and 2.78%, respectively, at the close of Monday. Nonetheless, the August 21 Markit PMI readings that came from the Eurozone met Wall Street expectations.
Article continues below advertisement
Eurozone business activity barometer
Markit Economics' Flash Eurozone PMI Composite Output Index report for August came in positive, despite all the negative market sentiment surrounding it currently. The preliminary reading for the composite index, comprising manufacturing and service output, for August came in at 54.1. The composite index stood at 53.9 in July. Both the manufacturing and service sector contributed positively to business activity growth in August.
The Eurozone Services PMI Activity Index read 54.3 in August against July's 54.0. The Eurozone Manufacturing PMI stood at 52.4 in August, unchanged from July, while the Eurozone Manufacturing PMI Output Index came in at 53.8 in August against July's 53.6. June's readings are preliminary estimates by Markit Economics. The final readings are scheduled to be released on September 1 for manufacturing and September 3 for services and composite indicators.
New orders and employment growth pick up pace in the Eurozone
The numbers were all positive, indicating increased business activity in the manufacturing and service sectors in the Eurozone, with growth of new orders and employment also up in August.
"The flash PMI suggests that the Eurozone is still experiencing one of its best periods of economic growth and job creation during the past four years. GDP growth is tracking close to 0.4% so far in the third quarter, slightly above the 0.3% seen in quarter 2, highlighting the resilience of the economy through last month's rollercoaster events of the Greek debt crisis," according to the August 21 report. ArcelorMittal (MT), GlaxoSmithKline (GSK), and Sanofi (SNY) are some notable companies operating in Europe.
Within the Eurozone, Markit Economics reported PMI numbers for Germany and France. We'll discuss this in the next part of our series.