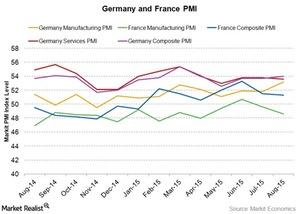 Germany Accelerated while France Recorded a Dip in Manufacturing
By Surbhi Jain

Updated
Germany PMI
The Markit Economics report for Germany (EWG) gave clear signals of acceleration in business activity. The Flash Germany Composite Output Index for August rose to 54.0 from 53.7 in July. Service sector activity stood strong at 53.6 index points in August. Plus, manufacturing sector activity showed strength with a rise of 1.4 index points, up from a 51.8 reading in July to 53.2 in August.
The iShares MSCI Germany (EWG) fell 1.46% on August 24 along with the big market slump triggered by China. The positive indicator news wasn't enough to cushion the fall. Eurozone economies have been experiencing a roller coaster lately.
Article continues below advertisement
Germany is the largest and most influential economy in the Eurozone. American firms such as ExxonMobil (XOM), General Motors (GM), Ford (F), and General Electric (GE) have invested heavily in their German operations. Positive news from the area is a definite boost to investors in Eurozone equity. However, just as investor confidence in the area was building on the back of positive indicator news, the Greek crisis reappeared to add uncertainty to the situation with the Prime Minister's resignation. Plus, China's stock market tumble hasn't spared any economy.
Markit Economics' August readings are preliminary estimates with the final readings scheduled to be released from September 1-3.
France PMI
Output in France (EWQ) increased moderately in August 2015, according to the August 21 report. The service sector's contribution to the composite number was significant in August. Manufacturing output contracted for the second month in a row, while employment in private sector firms declined.
The Markit Flash France Composite Output Index read 51.3 in August against July's 51.5. The Manufacturing Output Index remained unchanged at 49.2 in August, while the France Manufacturing PMI came in at 48.6 in August against July's 49.6. The Services Activity Index indicated expansion in business activity at 51.8 in August from July's 52.
Again, August's readings are preliminary estimates of Markit Economics, with the final readings scheduled to be released over September 1-3. For France, the estimates are based on data collected between August 12 and August 20.
PMI manufacturing readings also came in on August 21 for China and Japan, which we will discuss in the next article.