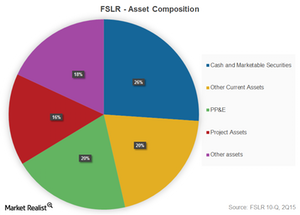 FirstSolar versus SunEdison: For FirstSolar, Cash Is King
By Mike Sonnenberg

Updated
Asset composition
FirstSolar (FSLR) and SunEdison (SUNE) vary greatly in their respective asset composition, just like they do with their business models and cost structures, as we've discussed so far in this series. In this part and the next, we'll look at these two companies' asset composition.
Article continues below advertisement
Current assets
FirstSolar's current assets—in fact, the asset side of its balance sheet—are dominated by cash, cash equivalents, and marketable securities. The company boasted cash balances of around $1.1 billion and marketable securities of over $700 million as of June 30, 2015. Plus, $700 million in revolving credit facility was available to the company on that date. Cash, cash equivalents, and marketable securities accounted for 26% of FSLR's total assets.
Other major current assets included inventories of $482.0 million, accounts receivables of $276.8 million, and other current assets of $262.7 million.
Long-lived assets
Fixed assets stood at $1,356.2 million (19.9% of total assets). Much of this consisted of manufacturing facilities in Kulim, Malaysia, and Perrysburg, Ohio.
Project assets came in at $1,060.8 million (15.6% of total assets) as of June 30, 2015, compared to $810.3 million as of December 31, 2014. Project assets refer to the solar (TAN) power projects that the company holds on its balance sheet. The company had 12 such projects with a collective capacity of 1,812 megawatts on its balance sheet as of June 30, 2015. These projects are at various stages of development. Almost all these capacities are contracted under power purchase agreements with investment-grade utilities such as Southern California Edison (EIX) and PG&E (PCG). The company may be holding a higher share of projects on its balance sheet than in the past in order to keep a pipeline available to drop down to 8point3 Energy (CAFD).
In the next part of this series, we'll look at the composition of SunEdison's assets.