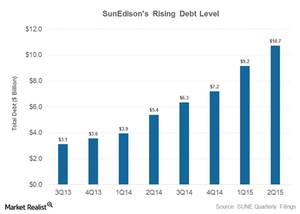 FirstSolar and SunEdison: What's the Biggest Difference?
By Mike Sonnenberg

Aug. 25 2015, Published 2:04 p.m. ET
FirstSolar
As of June 30, 2015, First Solar (FSLR) had total debt of $299.7 million against $216.9 million at the end of fiscal 2014. The increase in debt was on account of an increase in solar (TAN) project construction debt. The company's debt is denominated in various currencies, including US dollars, the Malaysian ringgit, and euros. Much of the debt is on the books of FS Malaysia, First Solar's (FSLR) wholly owned subsidiary. The company is in compliance with all the covenants.
Article continues below advertisement
What sets FSLR apart from SunEdison (SUNE) is the strength of credit metrics. With over $5 billion in net worth and $535.3 million in EBITDA1 for the 12 months ended June 30, 2015 (trailing 12 months or TTM), First Solar's credit metrics are strong. Its total debt to TTM EBITDA ratio is just 0.56, meaning the company's total debt, as of June 30, 2015, was just 56% of its TTM EBITDA. Its debt-to-equity ratio, which is another popular measure—also known as the "gearing ratio"—was healthy at 0.06x. The net debt, and therefore net leverage, was zero due to cash balances exceeding the debt level.
SunEdison
On the other hand, SunEdison (SUNE) is highly leveraged with total debt of $10.7 billion on its books as of June 30, 2015. This includes the debt on TerraForm Power (TERP) and TerraForm Global's (GLBL) books. The interest rate on the debt ranges from 0.25% to 9%. The company reported negative EBITDA during the 12 months ended June 30, 2015. High leverage contributes to the company's net losses due to the large interest expenses that the company pays. The gearing ratio for SUNE stood at over 3x as of June 30, 2015.
We've discussed FSLR and SUNE's financial and operational performance so far in the series. It's time to have a look at the major developments for both companies during and after the latest reported quarter.