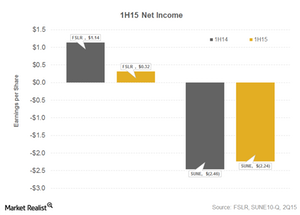 FirstSolar Records Subdued 1H15 Profits, SunEdison Steady Losses
By Mike Sonnenberg

Aug. 24 2015, Published 2:30 p.m. ET
FirstSolar
Despite a very favorable 2Q15, FirstSolar (FSLR) reported $13.0 million in operating losses in 1H15 compared to an operating profit of $141.2 million in 1H14. Lower gross profit coupled with higher operating expenses (primarily in 1Q15) resulted in the operating loss in 1H15.
FSLR's net income was down to $32.2 million ($0.32 per share) in 1H15 from $116.5 million ($1.14 per share) in 1H14 due to losses in 1Q15.
Article continues below advertisement
FSLR's operating cash flows remained negative and more than doubled to $435.0 million in 1H15 from $199.8 million in 1H14. The company spent $94 million on capital expenditure in 1H15. The company received $284 million from 8point3 Energy's (CAFD) IPO. 8point3 Energy is a yieldco jointly formed by FSLR and SunPower (SPWR).
SunEdison
SunEdison's operating losses escalated to $390 million in 1H15 from $172 million in 1H14, primarily due to higher SG&A expenses.
While FSLR's net income dropped in 1H15, SunEdison (SUNE) reported marginally lower net losses in 1H15. SUNE's net losses in 1H15 came in at $635 million ($2.24 per share) compared to $655 million in 1H14 ($2.46 per share). The losses were higher in 1H14, primarily due to a $499 million loss on debt extinguishment during the period.
The company's operating and investing cash flows in 1H15 remained in the red and were funded primarily by debt financing. In 1H15, SUNE, TerraForm Power (TERP), and TerraForm Global (GLBL) spent $2.2 billion on acquisitions, including the acquisition of First Wind, Atlantic Power, and Chinese wind projects.
SunEdison is part of the S&P 500 (SPY) index.