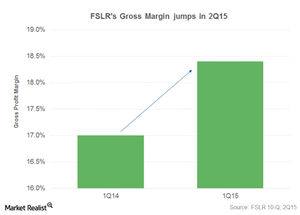 FirstSolar Records Impressive Cost Performance in 2Q15
By Mike Sonnenberg

Updated
Gross margins improve
FirstSolar's (FSLR) cost of sales increased 62% to $731.7 million in 2Q15 from $451.6 million in 2Q14. However, an increase in revenues offset the increase, bringing down costs to 81.6% of net sales in 2Q15 from 83.0% of net sales in 2Q14. This translates to a gross profit of 18.4% in 2Q15 compared to 17.0% in 2Q14. The improved margins primarily resulted from selling majority stakes in the Lost Hills and North Star projects to Southern Company (SO) during the quarter. Project sales fetch better margins for the company.
Article continues below advertisement
Other major costs
Research and development (or R&D) costs dropped to $29.5 million (or 3.3% of revenues) in 2Q15 from $32.7 million (or 6.0% of revenues) in 2Q14. However, the company reported a higher conversion efficiency of 15.4% in 2Q15, 140 basis points higher than 2Q14's 14.0%. This 15.4% conversion efficiency means that a 1 MW solar panel will produce 0.154 megawatt-hours of electricity in one hour.
Selling, general, and administrative expenses (or SG&A) came in at $70.9 million (7.9% of sales) in 2Q15 against $57.7 million (10.6% of sales) in 2Q14. The dollar increase was primarily due to expenses relating to the formation and initial public offering of 8point3 Energy (CAFD), the yieldco that FirstSolar and SunPower (SPWR) formed jointly.
The company's interest income on cash balances more than offset its interest expenses, resulting in net interest income of $5.2 million in 2Q15 compared to $3.6 million in 2Q14.
SunEdison (SUNE), FSLR's peer in the Guggenheim Solar ETF (TAN), exhibited a very different cost structure in 2Q. We'll have a look at it in the next part of this series.