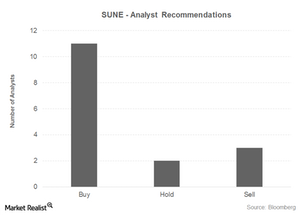 FirstSolar Focuses on Dollars while SunEdison Focuses on Megawatts
By Mike Sonnenberg

Sep. 10 2015, Updated 6:05 a.m. ET
3Q15 and FY15 guidance, SUNE
While FirstSolar's (FSLR) guidance focuses on dollars, SunEdison's (SUNE) guidance focuses more on capacities. SUNE expects to deliver 540 to 600 megawatts (or MW) in 3Q15. Of this, 490–530 MW are expected to remain on the company's books. The remaining 50–70 MW will be executed for or sold to third parties. The company expects to generate $75 million–85 million from the projects it retained during the quarter.
For fiscal 2015, the company expects to deliver around 2.1 to 2.2 GW (gigawatts, 1 GW = 1,000 MW) out of which 1.8–2.0 GW will be retained on the balance sheet. The projects to be retained include those dropped down to TerraForm Power (TERP) and TerraForm Global (GLBL).
Article continues below advertisement
Analyst expectations
Analysts expect SunEdison to generate $462.7 million in revenues in 3Q15 and for losses to come in around $0.59 during the quarter. Eleven of 16 interviewed analysts recommend a "buy" at the current price of $12.57 as of August 20. Two analysts recommend a "hold" rating while three analysts have given SUNE a "sell" rating.
The future
SUNE had a backlog of 5.6 GW and an additional pipeline of 2.5 GW as of June 30, 2015.  The company expects 90% of the backlog and 60% of the pipeline to convert to revenues. Plus, the company remains in the lead in auctions for 14.6 GW of additional capacity, which has a conversion probability of 40%. The company also expects additional market opportunity of 33.6 GW to emerge with a conversion probability of 10%. The opportunities include those in wind, hydro, and solar (TAN). "Conversion probability" refers to the likelihood of SUNE converting the bids into final orders.