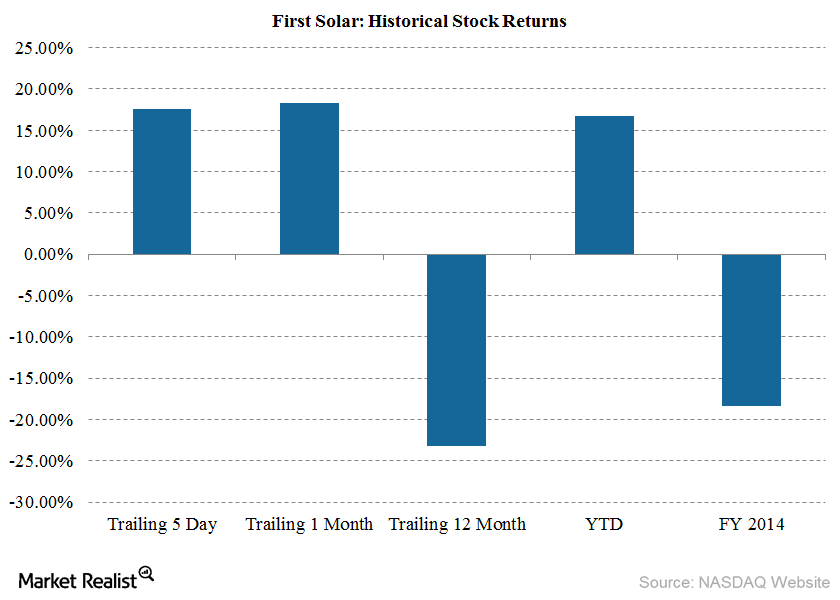 First Solar Trades above Moving Averages
Shareholder returns and stock trends
First Solar (FSLR) has generated returns of -23.22% in the TTM (trailing twelve-month) period for investors and 18.28% in the trailing one-month period. In comparison, it generated -18.39% returns in 2014 and 16.78% YTD (year-to-date). The firm's share price rose by 17.56% in the trailing five-day period.
In comparison, peer companies in the semiconductor subsector like Microchip Technology (MCHP) and Texas Instruments (TXN) have generated returns of 1.68% and 0.68% in the trailing five-day period.
Article continues below advertisement
Moving averages
On August 7, 2015, First Solar's last trading price was $52.08. The firm was trading -2.46% below its 100-day moving average and 9.48% and 15.19% above its 50-day and 20-day moving averages of $53.39, $47.56, and $45.20, respectively.
MACD and RSI
The MACD (moving average convergence divergence) is the difference between the short-term and long-term moving averages of a firm. The 14-day MACD is -0.64 for First Solar. It shows a downward trading trend because the figure is negative.
The 14-day RSI (relative strength index) for First Solar is 67. This shows that the stock is slightly overbought. Generally, if the RSI is above 70, it indicates that the stock is overbought, while an RSI figure below 30 suggests that the stock has been oversold.
Analysts' recommendation
Out of 17 analysts covering the stock, seven have a "buy" recommendation, one has a "sell" recommendation, and nine have a "hold" recommendation. The analyst stock price target for the firm is $63.90 with a median target estimate of $66.50. First Solar is trading at a discount of 22% with respect to its median target. It looks to be an attractive buy at the current levels.
First Solar accounts for 0.02% of the SPDR S&P 500 ETF (SPY) and 0.09% of the Technology Select Sector SPDR Fund (XLK).