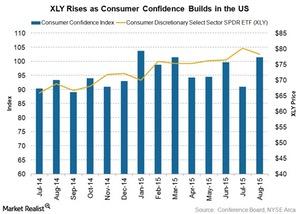 Falling Fuel Costs Boost August US Consumer Confidence to 101.5
Oil price slide boosted consumer confidence in August
The price of crude oil has been falling since mid-2014, and it is currently down to about $40 a barrel. Consumers in the US have been benefiting from the fall in crude prices. Cheaper fuel leaves them with higher disposable incomes, which boosts consumer spending.
The consumer discretionary sector, as gauged by the Consumer Discretionary SPDR ETF (XLY), had gained more than 10% in 2015 up to the end of July. August saw world markets decline in reaction to the China meltdown. As a result, XLY saw a steep decline in August, along with the broader US stock market, as measured by the SPDR S&P 500 ETF (SPY).
Article continues below advertisement
On August 25, SPY was down 1.20%. However, consumer stocks such as Best Buy (BBY), Netflix (NFLX), and Michael Kors (KORS) led the top gainers on Wall Street. BBY was up 12.57%, NFLX gained 4.79%, and KORS was up 3.49%, as the Conference Board Consumer Confidence Index for August indicated that consumers were more confident in the US.
However, these positive indicators were unable to lift XLY, which shed 0.41% on August 25.
Consumer confidence builds as oil continues its slide
According to the Conference Board report, consumer confidence jumped to 101.5 index points in August. August's consumer confidence index is above July's 91.0. The present situation component of the index rose to 115.1, recording an 11-point rise from July. Plus, the expectations component indicated strength as it rose to 92.5, a ten-point rise from the previous reading.
The rise in consumer confidence can be partly attributed to the continued slide in the price of oil. Declining oil prices had been fueling consumer spending, which had benefited the consumer discretionary sector and retail sales.
Let's move on to access some US industrial sector indicators.