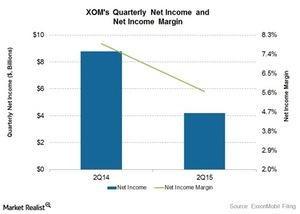 Did ExxonMobil's 2Q15 Revenues and Earnings Provide Any Relief?
By Alex Chamberlin

Updated
ExxonMobil's 2Q15 revenues
ExxonMobil (XOM) released its 2Q15 financial results on July 31. In this series, we'll discuss the company's latest quarterly results, beginning with a snapshot of ExxonMobil's 2Q15 revenues and earnings. The company recorded $74.11 billion in total revenues and other income in 2Q15, down 33.3% from the $111.21 billion it recorded in 2Q14. XOM's revenues for the latest quarter decreased primarily due to lower price realizations in the upstream segment, partially offset by better downstream and chemical segment performances.
Article continues below advertisement
ExxonMobil's earnings in 2Q15
ExxonMobil recorded $4.19 billion in net income in 2Q15, down 52.2% from $8.78 billion net income in 2Q14. The company's net income margin slumped to 5.6% in 2Q15 from 7.9% a year earlier. Net income margin is net income attributable to XOM shareholders divided by total revenues for the quarter. Geography-wise, earnings decreased nearly equally in ExxonMobil's US and non-US operations from 2Q14 to 2Q15. Segment-wise, XOM's downstream and chemical segments bucked the trend by improving net income, or earnings. In Market Realist's previous series on ExxonMobil, we discussed this possibility. Check out What to Look for in ExxonMobil's 2Q15 Results for more information.
One-time charges affected earnings
In 2Q15, ExxonMobil recorded a $260 million deferred income tax impact related to a tax rate increase in Alberta, Canada. Also, in the chemical segment, XOM recorded a net $50 million asset management gain in the latest quarter. ExxonMobil's (XOM) 2Q15 earnings per share (or EPS) was $1.00 versus $2.05 recorded a year earlier.
Compared to ExxonMobil, TOTAL (TOT) recorded a 30% decline in adjusted revenues in 2Q15 over 2Q14, while Statoil (STO) recorded a 13% adjusted revenue decline in the same period. ExxonMobil makes up 1.72% of the SPDR S&P 500 ETF (SPY) and 15.7% of the Energy Select Sector SPDR (XLE).
Next, we'll discuss XOM's earnings versus Wall Street estimates.