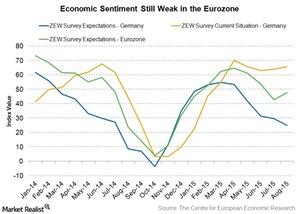 Expectations Rose for the Eurozone, Fell for Germany in August
By Surbhi Jain

Updated
Report from Germany weighs down Eurozone equity
All major US exchange-traded funds tracking Eurozone equity fell on August 11 as the ZEW Indicator of Economic Sentiment came out for August. The Vanguard FTSE Europe ETF (VGK), the SPDR EURO STOXX 50 ETF (FEZ), and the WisdomTree Europe Hedged Equity Fund (HEDJ) fell 1.3%, 1.6%, and 2.04%, respectively, on August 11's close. Eurozone equity seemed to be weighed down by the ZEW report for Germany, which showed economic sentiment weakening for the area despite a positive report for the Eurozone.
European equity fell too on Tuesday, August 11. Deutsche Bank AG (DB) and HSBC Holdings (HSBC) fell 1.5% and 0.62%, respectively, while SAP (SAP) fell about 2%.
Article continues below advertisement
ZEW Indicator of Economic Sentiment
The ZEW[1. Zentrum für Europäische Wirtschaftsforschung] conducts its "ZEW Financial Market Survey" monthly. The survey polls over 350 financial experts regarding the current situation and their expectations for the German economy. The result is calculated as the difference between the share of participants who are optimistic and the share of participants who are pessimistic about the German economy currently and over the next six months. So a positive reading indicates that more people are optimistic about the economy overall.
Expectations for the Eurozone rebound after three months
Expectations for the Eurozone rose in August after three consecutive months of decline. Economic expectations for the Eurozone were affected by the Greek financial crisis. With Greece finally bailed out and investor and consumer confidence building in the Eurozone, expectations for the currency union seem to rising again. The ZEW economic expectations index for the Eurozone saw a good 4.9-point jump from July's 42.7 reading. The index stood at 47.6 in August.
Expectations for Germany weakened in August
Expectations for Germany in August weakened, however. With a 4.7-point decline, the index value for the ZEW economic expectations for Germany came in at 25. August marks the fifth consecutive month of declining economic sentiment in Germany. The iShares MSCI Germany ETF (EWG) fell 2.26% on August 11's close. The current situation index for Germany, however, gained 1.8 points in the latest reading to record 65.7 in August.
The European Central Bank's monetary stimulus has certainly been helping Eurozone economies. Its effect is more prominent in certain countries, such as Italy, as we'll discuss in the next part of this series.