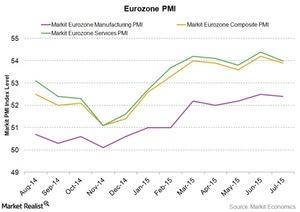 Eurozone Business Activity Seems Undeterred by Greek Crisis
By Surbhi Jain

Aug. 7 2015, Published 12:27 p.m. ET
Great expectations from the Eurozone on ECB stimulus
Investors in the Eurozone have been expecting positive economic news from the area. The ECB's (European Central Bank's) bond buying program—intended to spur economic activity in the Eurozone, boost inflation, and rescue the economy from deflation—has been in effect since March this year.
Consequently, the European equity-tracking Vanguard FTSE Europe ETF (VGK) and the SPDR EURO STOXX 50 ETF (FEZ) have risen 6.28% and 5.78%, respectively, so far this year. This increase contrasts to the US-tracking SPDR S&P 500 ETF's (SPY) 2.22% year-to-date return as of August 5, 2015.
The August 5 Markit Final Eurozone Composite PMI readings met investors' expectations.
Article continues below advertisement
Eurozone business activity barometer
Markit Economics' Final Eurozone PMI Composite Output Index report for July exceeded expectations despite the Greek crisis. While the markets had expected the reading to weaken on account of the Greek crisis, the final reading for the composite index for July came in at 53.9, indicating expansion of business activity. The composite index stood at 54.2 in June. The reading did dip in July, but not to the extent markets had expected.
The Eurozone Services PMI Activity Index read 54.0 in July against June's 54.4. The Eurozone Manufacturing PMI stood at 52.4 in July against June's 52.5.
Eurozone business activity scored despite the Greek crisis
The numbers were all positive, indicating business activity expansion in the Eurozone. Output expanded in both the manufacturing and service sectors. The pace of growth was higher for service-sector firms. The Spain-based Banco Santander (SAN), the Netherland-based ING Group (ING), and the United Kingdom–based Vodafone (VOD) are some notable service-sector companies operating in the Eurozone.
"The Eurozone economy showed reassuring resilience in the face of the Greek debt crisis in July. Despite a record deterioration in Greek business conditions amid extended bank closures, the overall pace of economic growth across the region barely slowed from June's four-year high," according to Chris Williamson, chief economist at Markit Economics.
Within the Eurozone, Markit Economics reported PMI numbers for Germany, France, Italy, Spain, Poland, Turkey, the Netherlands, and the Czech Republic. Let's take a quick look at these releases in the next parts of this series.