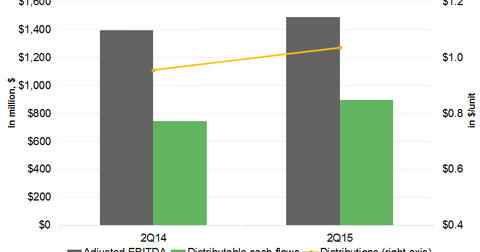 Energy Transfer Partners: 2Q15 Operating Results
By Kurt Gallon

Updated
Energy Transfer Partners' revenue
Energy Transfer Partners (ETP) reported its 2Q15 earnings on August 5. In this series, we'll look at ETP's 2Q15 operating results, contrast actual numbers against analyst estimates, and compare individual segment contributions to 2Q15 operating performance. We'll also review the firm's major announcements, its outlook for the rest of 2015, and analysts' recommendations. Let's start with an analysis of ETP's 2Q15 operating results.
ETP's 2Q15 revenue decreased to $11.54 billion from $14.09 billion in the second quarter of the previous year for a YoY (year-over-year) ~18.1% decline. The decline in revenue was mainly due to lower commodity prices affecting some of ETP's businesses.
Article continues below advertisement
Energy Transfer Partners' adjusted EBITDA
The decrease in Energy Transfer Partners' 2Q15 revenue was offset by a decrease in the cost of goods sold. ETP's 2Q15 adjusted EBITDA (earnings before interest, taxes, depreciation, and amortization) increased to $1.488 billion in 2Q15 from $1.393 billion in 2Q14, a YoY increase of 6.8%.
The EBITDA increase was mainly driven by a $46 million contribution from the Investment in Sunoco Logistics segment, $20 million from the Midstream segment, and $28 million from the All Other segment. The increase in the adjusted EBITDA was offset by a decline at ETP's Interstate and Intrastate Transportation and Storage segments. We'll analyze each segment's operating performance in a later article.
Energy Transfer Partners' distributions
Energy Transfer Partners declared a distribution of $1.035 per unit for 2Q15. This represents a ~8.4% YoY increase over 2Q14 and a 1.97% sequential increase over 1Q15. ETP's 2Q15 distributable cash flow was up 20% versus 2Q14. At the same time, the partnership's distributable cash flow per common unit was $1.23 in 2Q15, down from $1.78 in 2Q14, mainly due to the dilutive effect of the ETP­–Regency Energy Partners merger. As well, ETP's distribution coverage ratio declined to 1.03x from 1.53x during the same time frame.
Key ETFs and stocks
In comparison, ETP's peers EnLink Midstream Partners (ENLK), Midcoast Energy Partners (MEP), and Oneok Partners (OKS) grew their respective 2Q15 distributions per unit by 5.48%, 8.46%, and 3.95% YoY.
Together, ETP, ENLK, and OKS account for ~14.31% of the Alerian MLP ETF (AMLP). Energy Transfer Equity (ETE), ETP's general partner, reported 2Q15 distribution growth of 39.47% YoY.