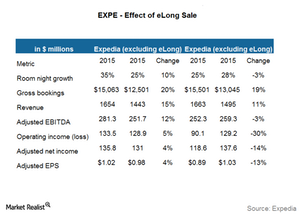 Why the eLong Sale Was a Good Decision for Expedia
By Ally Schmidt

Updated
Overview
In the previous article, we saw how Expedia's revenue drivers helped improve its performance. While these will be important for future growth too, one factor that will particularly impact the company's performance starting next quarter is the sale of eLong. eLong was Expedia's (EXPE) majority-owned Chinese brand, which specialized in travel products and services in China with a particular focus on driving online hotel bookings.
Article continues below advertisement
Expedia sold its 62.4% stake in eLong in May 2015 to its competitor Ctrip (CTRP) and other investors for $671 million. It also reached an agreement with the latter on cooperation for certain travel products in specified geographic markets, primarily in the air and packaged tours segment. The Chinese brand had been hurting Expedia's bottom line for quite some time, and getting rid of it could help the company better focus on its core online travel agency (or OTA) business.
Effect on 2Q15
Selling eLong has indeed turned out to be a good move for the company. In the recent quarter, the difference between the company's results with and without including eLong are enough to show the negative effect that eLong had. The bookings and revenues for eLong fell by 19% and 84% year-over-year (or YoY), respectively, while its operating income dipped from a meager $0.3 million to a $45.5 million loss.
On the contrary, Expedia saw strong core performance during the quarter with its core OTA accounting for 86% of revenues for the quarter with brands such as Trivago showing excellent growth. The EBIDTA rose by 12% YoY while net income grew by 4% YoY. However, adjusting for eLong and on a combined basis, the total EBIDTA fell by 3% YoY and operating income fell by 30% YoY during the quarter.
Expedia's decision to sell off the stake in eLong will likely benefit the company's bottom line in coming quarters.
EXPE forms 0.52% of the Consumer Discretionary Select Sector SPDR (XLY). Priceline (PCLN), Expedia's major competitor, forms 2.77%, while Tripadvisor (TRIP) forms 0.36%. In the next article, we'll see what other factors will help in Expedia's future growth.