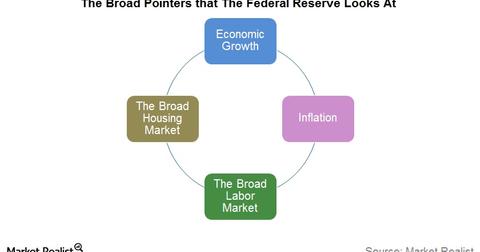 Economic Indicators that the Federal Reserve Monitors
By David Ashworth

Aug. 18 2015, Published 2:59 p.m. ET
Economic indicators
A typical Federal Reserve monetary policy statement includes comments on the following indicators and pointers:
economic growth
household spending
business fixed investment
net exports
inflation
the broad labor market with focus on unemployment
the broad housing sector
We'll look at these measures individually—where they are, how the Federal Reserve is reading them, and at what level or trend the central bank could be happy with their progress.
Article continues below advertisement
Summary of Economic Projections
The FOMC (Federal Open Market Committee) meets eight times each calendar year to discuss the direction of monetary policy. On four of these occasions, it also holds a press conference and releases its Summary of Economic Projections (or SEP), which contains the policymakers' assessments on economic growth, unemployment, and inflation. Given that policymakers publicly release these estimates on these three economic indicators, they are important metrics to watch.
The Federal Reserve has two main goals: maintaining maximum employment and price stability. We'll discuss these goals later in this series.
Why should you care?
What has all this information got to do with you, the investor, and why should you care?
If you're an equity investor, you may invest in blue-chip stocks like Apple (AAPL), ExxonMobil (XOM), and Procter & Gamble (PG), among several others. You may also invest in the broad market with instruments like the PowerShares QQQ Trust, Series 1 ETF (QQQ). For these investors, a hike in the federal funds rate could potentially impact equities—a worry that has gripped stocks in recent weeks.
If you invest in fixed income products, the yields of bonds can be directly impacted by raising the federal funds rate. These fixed income products can include investing directly in Treasury and company debt issues, as well as ETFs like the iShares 1–3 Year Treasury Bond ETF (SHY) and the iShares iBoxx $ Investment Grade Corporate Bond ETF (LQD).
Further, the US dollar generally strengthens whenever the Federal Reserve's monetary policy strengthens. So, your bets on the movement of the greenback can be impacted as well.
In the next article, we'll explore the first of our economic indicators: economic growth.