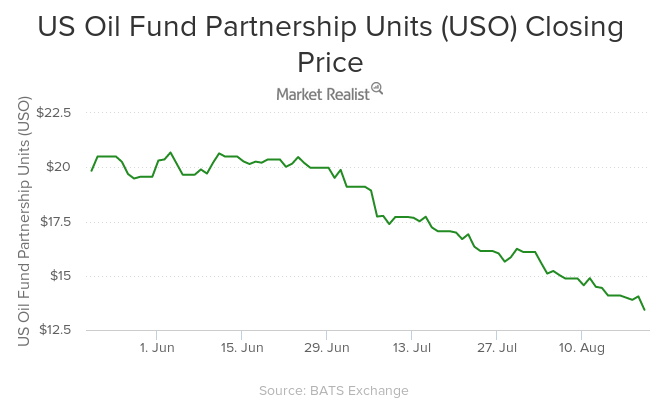 Crude Oil Prices Are Steady despite Record Output Estimates
By Gordon Kristopher

Nov. 20 2020, Updated 4:50 p.m. ET
Crude oil price action
This series analyzes crude oil prices and fundamentals. For an in-depth fundamental look at oil and gas and related companies, sectors, and drivers, please refer to our Energy and Power page.
October WTI (West Texas Intermediate) crude oil futures contracts trading in NYMEX rose slightly by 0.12% and closed at $41.32 per barrel on August 20, 2015. Prices rose due to the depreciating US dollar. ETFs like the United States Oil Fund LP (USO) and the ProShares Ultra DJ-UBS Crude Oil (UCO) diverged from the price direction of US crude oil prices in yesterday's trade. These ETFs fell by 0.45% and 1.38%, respectively, on August 20, 2015.
[marketrealist-chart id=608500]
The US September WTI crude oil futures contracts rose slightly at expiry on August 20, 2015. A possible hurricane and the weak dollar benefited crude oil prices in yesterday's trade.
Article continues below advertisement
The US Dollar Index depreciated against the global currencies in yesterday's trade. The speculation of negative cues from the Federal Reserve on the interest rate hike in September 2015 weighed on the traders holding long positions of the US dollar. The negative sentiments might have fueled these traders to square off their long position. As a result, dollar-denominated crude oil rallied slightly in Thursday's trade despite oversupply concerns.
In its monthly report, the API (American Petroleum Institute) stated that the US produced 9.52 MMbpd (million barrels per day) in July 2015. It's 8.80% more than the levels in 2014. This is the highest US crude oil output since the 1920s.
Swiss-based research group Petromatrix estimates that Saudi Arabia produced 11 MMbpd of crude oil in June 2015. However, there's little evidence of these figures. But, if these numbers are correct we could see the beginning of a new era in the crude oil bear market.
Summer demand is nearing an end and refineries are undergoing seasonal maintenance. This could curb the demand for crude oil in 3Q15. The economic slowdown in China, Europe, and Japan would also curb the crude oil demand.
The latest data from the CFTC (U.S. Commodity Futures Trading Commission) states that hedge funds reduced their bullish bets and added to their short positions. It suggests that hedge funds have a pessimistic view of crude oil prices.
The surging global inventories and low crude oil prices could crush high debt, small exploration, and production companies. What about the rescue plans for the oil majors like Chevron (CVX), ExxonMobil (XOM), and Occidental Petroleum (OXY)? These integrated oil giants have also fallen prey to the long-term oil bear market. Chevron and ExxonMobil posted their lowest profits in several years. Many oil companies have entered into M&A (merger and acquisition) activity in order to sustain the lower crude oil prices.
The Bloomberg Commodity Index is also trading near a 13-year low. It's led by oversupply concerns. US WTI crude oil prices fell by 23.20% YTD (year-to-date) due to weak demand cues and oversupply concerns. Oil prices are trading close the lows in March 2009.