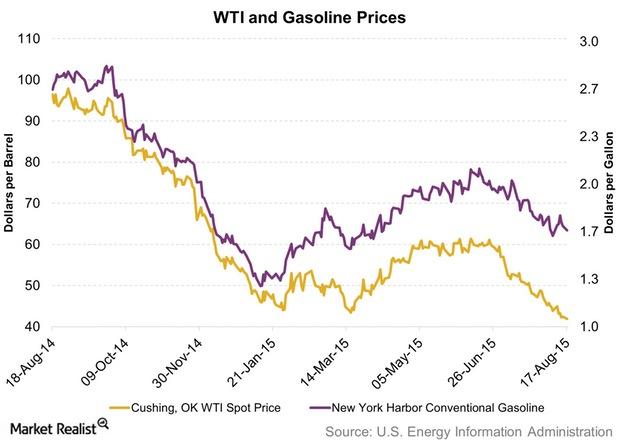 Do Crude Oil Prices Hold the Key to a Rate Hike in the US?
By David Ashworth

Dec. 4 2020, Updated 10:52 a.m. ET
Crude falls again
Once again, crude oil prices are moving southward. At a similar time last year, crude oil prices had begun falling, which resulted into a variety of problems for oil companies, job losses in the drilling sector, and depressed inflation. This led to the ZIRP (Zero Interest Rate Policy) continuing to this day.
According to data from the U.S. Energy Information Administration (or EIA), Cushing, Oklahoma WTI prices fell to $41.93 a barrel on August 17—the lowest since early March 2009. Prices were above $50 a barrel a month ago. Iran flooding the market with its oil is one of the reasons for this fall.
Article continues below advertisement
Oil companies like Kinder Morgan (KMI), Chevron Corporation (CVX), and ConocoPhillips (COP) are bearing the brunt of this fall. The stocks of these companies fell by over 20% each in the three-month period ending August 19, 2015. Related ETFs like the iShares US Energy ETF (IYE) and the United States Oil ETF (USO) are down 16% and 32%, respectively, during the same period.
Reference to energy prices to return?
In its July 2015 policy statement, the FOMC (Federal Open Market Committee) had removed any direct reference to energy prices. Its presence was only with reference to its impact on keeping inflation low in the near term. We had explained the reason for this in Why Did the FOMC Remove Its Reference to Stable Energy Prices?
With this fall, the Federal Reserve can be expected to start highlighting energy prices again in its policy statement.
Key for investors
Investors should monitor commodity prices in general and crude oil prices in particular. If this is just a short-term trend, they can be prepared for a rate hike in 2015. However, if this trend persists, the Fed could be forced to hike rates only in 2016. Investors should take care to align their portfolios accordingly.
Let's look at an important indicator that can give you an insight into inflation expectations: the breakeven inflation rate.