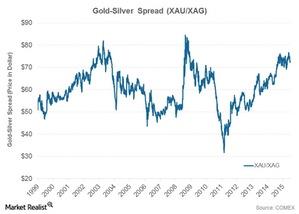 Why It's Crucial to Interpret the Gold–Silver Spread
By Meera Shawn

Aug. 21 2015, Published 10:44 a.m. ET
Gold and silver correlation
The relationship between gold and silver has been historically reliable, with a high correlation between the two metals. Gold demand's principal component comes from the jewelry manufacturing sector, whereas silver sees significant demand from the industrial sector. Silver can be a probable indicator of global economic health due to its high industrial use. Gold, on the other hand, can be viewed as a safe-haven commodity that people turn to in turbulent times. So you can see the correlation.
Article continues below advertisement
Gold–silver spread
Cross-commodity spreads have features unique to conventional futures trading. Spreads lack a direct analogy in securities like futures. A spread consists of two or more related futures positions. Spread quotes are for commodities that have economic connections. Commonly traded cross-commodity spreads include gold–silver, gold–platinum, and gold–palladium. The prices for these spreads as of Tuesday, August 18, were $75.088, $1.1228, and $1.8698, respectively.
Above is a chart of the historical gold–silver spread.
Retrospectively trading in the range of $50 to $80, the gold–silver spread fell close to $20 and traded as low as ~$32 in April 2011. Since 2011, it's been moving in an upward direction. It currently has a 100-day moving average of ~$74.3. It saw a high of ~$82 at the end of 2008. The figures likely suggest that, during stable markets, the spread is gaining. It fell to critically low levels during the 2011 precious metal slump.
Article continues below advertisement
Support and resistance
The current spread rose 3.02% and settled at $75.088. A $75 spread suggests that it takes almost 75 ounces of silver to buy one ounce of gold. As you can see in the chart, the gold–silver spread has a resistance level close to $80 and a support level close to $40.
Under the current scenario, if markets all over the globe underperform, and we expect precious metals to decline further the spread could narrow. In the near term, $50 is a primary support level for the spread.
Miners take a dip
Precious metal investors also invest in mining companies. ETFs mimicking miners' performance include the VanEck Vectors Gold Miners ETF (GDX) and the Sprott Gold Miners ETF (SGDM). These funds fell on Tuesday, August 17, and lost 1.8% and 1.64%, respectively. Companies that contributed to the loss of the GDX Miners ETF include Hecla Mining (HL), First Majestic Silver (AG), Coeur Mining (CDE), and Yamana Gold (AUY).