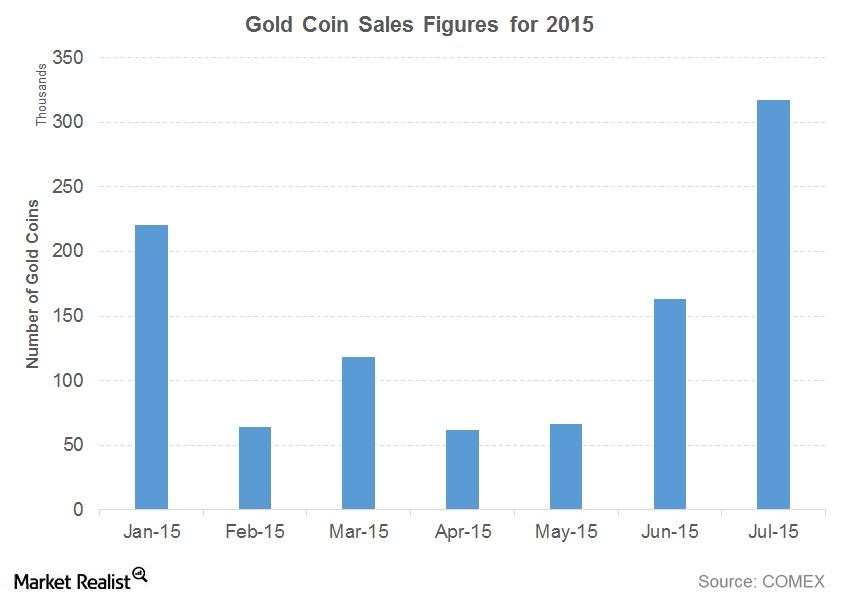 COMEX Warehouse Gold Inventories are Low, Asian Demand Is High
By Meera Shawn

Aug. 9 2015, Updated 10:42 p.m. ET
Gold inventories are at a record low
Gold and silver have been bleeding for a month now and have lost close to 6.14% and 6.48%, respectively, on a 30-day trailing basis. Investor sentiments and expert recommendations are all in line for a further decline in prices. But the scenario at COMEX (Commodity Exchanges) warehouses is entirely different from expected, and it tells us a brand-new story.
Futures contracts issued on COMEX are backed by the registered category of gold and other precious metals, respectively. A daily report on the warehouse's current holdings has been made available. According to the Friday report from COMEX warehouses, the present stock of gold stood at ~350,000 ounces. The figures are at the record-low mark for gold inventories. According to the current data, one ounce of gold backs ~120 gold contracts on COMEX futures. The above figure of ~120 is the highest number of future contracts traded against an ounce of gold. The chart below presents the data for gold coin sales in the past few months.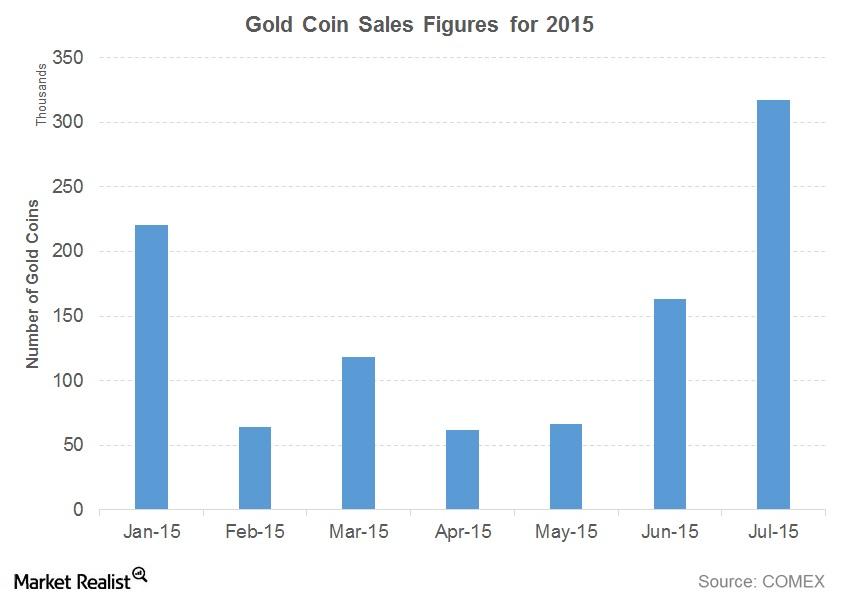 Article continues below advertisement
Asia is calling for gold
Despite gold losing close to 0.37% on a five-day trailing basis and 0.50% on the last trading day, its physical demand is soaring upwards. The open interest on COMEX has been stable. Pessimist investor sentiment and the shedding of gold holdings are likely backed by some buying. As a rule, if everyone is selling, there has to be someone who's buying. According to the COMEX warehouse information, ~22% of the total kilo-bar holdings left Brinks's vault in a single day. That is a humongous amount. Asian countries highly prefer kilo-bars. These data suggest sheer optimism among Asian buyers.
Miners have been suffering in the past year with the VanEck Vectors Gold Miners ETF (GDX) and the VanEck Vectors Junior Gold Miners ETF (GDXJ) losing close to 24.73% and 21.39%, respectively, on a 30-day trailing basis. On Monday, GDX and GDXJ lost 3.49% and 3.1%, respectively. Similarly, mining companies' performance has been negative in the last month and also on the last trading day. Sibyane Gold (SBGL), Iamgold (IAG), B2gold (BTG), and Barrick Gold (ABX) lost 5.98%, 8.58%, 2.80%, and 5.10%, respectively. These stocks together represent 11.6% of the VanEck Vectors Gold Miners ETF's (GDX) holdings.