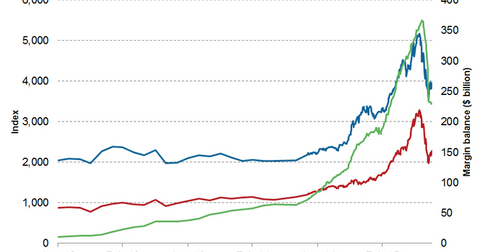 Why the Chinese Stock Market Meltdown Is Just the Tip of the Iceberg
By Lynn Noah

Updated
Is China trapped in a vicious debt circle?
China's stock market presents little risk to the overall economy, as only about 9% of household wealth is invested in the stock market. However, high levels of debt can put the entire economy in jeopardy. The Chinese stock market meltdown is just one of the indicators of how fragile the Chinese economy is. The real risk comes from excessive debt along with slowing economic indicators.
The surge in equity investing can be gauged from the fact that, according to China Securities Depository & Clearing, there were 90 million individual investors as of the end of July. Over 40 million accounts were opened in the year ending in May 2015. The recent boom in the stock market has mainly been driven by borrowed funds to pay for stock purchase or margin trading.
For more information, read Market Realist's series on Why sell-off in China won't hurt the global economy.
Article continues below advertisement
Domestic Chinese markets face oversupply
Growth in corporate earnings are flat, and they are in turn creating a drag on producer prices, making it difficult for businesses to pay back their debts. The construction and real estate sector is under price pressure, as there is a large oversupply throughout China, which contributes nearly 30% to China's GDP.
China's local governments are under heavy debt and are not in a position to repay loans, as they are stuck with unused projects. But, the government has ordered banks to continue lending even if local governments are not repaying their loans.
Impact on mutual funds
The high levels of debt can have an adverse impact on the Chinese stock market. This is primarily because the majority of traders in China are retail investors, and the foreign institutional investing (or FII) is extremely limited in China. However, in this world of globalization, there will be some ripple effects on the global markets as well.
Similarly, the four mutual funds that we are analyzing may also be impacted. These funds include the Clough China Fund Class I (CHNIX), the Fidelity China Region Fund Class C (FHKCX), the John Hancock Greater China Opportunities Fund Class A (JCOAX), and the Matthews China Investor Class (MCHFX).
These mutual funds have exposure to large Chinese companies like Youku Tudou (YOKU), Alibaba Group Holding (BABA), and 58.com (WUBA).
In the next article, we will analyze how the above mutual funds are impacted by three macro-economic variables for China: gross domestic product, exports, and purchasing managers' index.