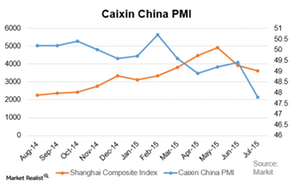 China's Purchasing Managers' Index Drops in July 2015
By David Meyer

Updated
Calxin China PMI (purchasing managers' index) at a two-year low
China's manufacturing PMI, which focuses on smaller and medium-sized businesses, for July 2015 hit a two-year low at 47.8, the fifth consecutive month of contraction in the economy. The data was expected to come in at 48.3. The result was surprising since the downturn in the country's manufacturing sector increased at the beginning of the new quarter.
The graph above plots the movement of the manufacturing PMI with the Shanghai Composite Index over the last 12 months. Keep in mind the time lag between the release of the PMI numbers and the benchmark equity market movement. You can see an apt correlation arising from a rise and fall in the manufacturing PMI, which in turn affects the Shanghai Composite Index.
Article continues below advertisement
Renewed drop in new export orders
A sustained fall in the demand from foreign nations, weaker market conditions, and softer output growth in the economy contributed to low levels in the manufacturing index. Increased competition fueled a price war in July, causing a reduction in overall selling costs. With client demand receding, another problem of unemployment increasing through companies has surfaced, as staff members declined for the twenty-first straight month.
Impact on the market
Chinese ADRs (American depository receipts) reacted negatively to the two-year low PMI numbers. Software company ADRs 58.com (WUBA) and Baidu (BIDU) fell by 4.45% and 2.04%, respectively. Meanwhile, the online retail giant Alibaba Group Holding Limited (BABA) didn't show any major reaction to the data. It continued to slide down for the eighth consecutive day and ended the day on August 3 0.45% lower.
The iShares China Large-Cap ETF (FXI) fell by 1.46%, and we saw a similar pattern in the iShares MSCI China ETF (MCHI), which fell by 1.56%.