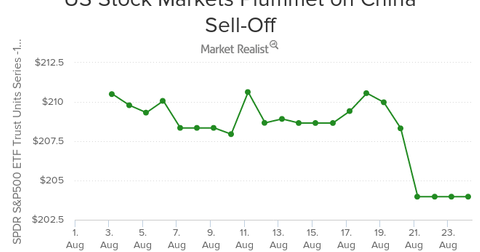 China Sparks Global Stock Market Sell-Off, SPY Falls 3.11%
By Surbhi Jain

Updated
Why the US stock markets are down
The benchmark S&P 500 (SPY) fell 3.19% while the Dow Jones Industrial Average fell 3.12% on Friday, August 21's, close. Global growth fears have been leading to increased apprehension among investors with respect to their expected returns. Even blue-chip stocks Apple (AAPL), Microsoft (MSFT), and Nike (NKE) fell 6.12%, 5.67%, and 4.84%, respectively, at the end of trade on Friday.
[marketrealist-chart id=611441]
Article continues below advertisement
Among the nine sectors tracked by the S&P 500 index, the technology sector (XLK) fared the worst with a 3.82% fall on August 21. The financials and energy sectors didn't fare well either. The Financial Select Sector SPDR ETF (XLF) was down 3.59% while the Energy Select Sector SPDR ETF (XLE) dipped 3.50%.
China led the Asian sell-off
Stocks markets in the United States corrected on global growth fears. The uncertainty about China's economic and stock market future has been weighing down world markets for more than a month now. The iShares China Large-Cap (FXI) was down 2.51% on August 21's close.
On August 24, the Shanghai Composite Index (or SSE) opened 8.50% lower. On August 19, the International Monetary Fund rejected China's request for its renminbi to be added to the special drawing rights basket of reserve currencies. Inclusion of the renminbi (or yuan) among currencies such as the US dollar, the euro, the British pound, and the Japanese yen would have boosted market sentiment towards China. Joining the basket would have entitled the Chinese currency for use in the fund's emergency loans. It would have also bolstered more international use of the currency, in effect boosting confidence in China's financial markets.
Other Asian markets witnessed a massive sell-off too. Japan's Nikkei 225 index fell 4.6%, Hong Kong's Hang Seng Index lost 5.17%, and India's BSE 30 Index lost 5.94%.
The Eurozone joined the stock market sell-off
Eurozone equities, which had started gaining ground on positive indicator news, also reversed their trend as the Greek saga took another crucial turn, adding uncertainty to the markets. Greek Prime Minister Alexis Tsipras resigned from office late Thursday, with the situation demanding a snap election in September. The FTSE 100 Index fell 2.85% on August 24 while the German DAX Index fell 3.20%.
The commodities and currency markets fell too, as we discuss in the next part of this series.