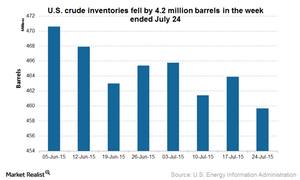 China May Cause Saudi Arabia to Cut Official Prices of Crude Oil
By Stuart McKenzie

Updated
US crude oil inventory data
US crude oil inventory data showed a decrease of 4.2 million barrels in the week ended July 24, 2015. This is far short of expectations that inventory would decrease only by 0.1 million barrels. This unexpected data gave a much-needed boost to US crude oil. You can read more about this in our article Oil Rallies after Fall in US Crude Oil Inventory.
Following the release of the data related to US crude inventories, the United States Oil ETF (USO) ended the day 2.46% higher. It was one of the biggest rises in nearly three weeks. The ProShares Ultra Bloomberg Crude Oil ETF (UCO) rose 2.81%, and the United States 12 Month Oil ETF (USL) rose 1.76%.
On the stock market front, Exxon Mobil (XOM) posted an impressive gain of 4.06%. Other crude-related stocks like Devon Energy (DVN) and Occidental Petroleum (OXY) followed suit, rising by 2.38% and 1.24%, respectively, over the day.
Article continues below advertisement
Angola expected to be top African exporter of crude oil to China
According to a July 28, 2015, Reuters article, China's imports of crude oil from Africa are expected to increase to 47.5 million barrels in July, a monthly increase of more than 40%. The Thomson Reuters Oil Research and Forecasts Team reportedly expects Angola to be the top African crude supplier for China.
Shipments from Angola are expected to rise from 2.88 million metric tons in June to 3.4 million metric tons in July. The large increase in July exports would be positive for Angola after losing its number-two spot to Russia in the first half of 2015.
Saudi Arabia's share of Chinese crude oil imports expected to drop
The Thomson Reuters Oil Research and Forecasts Team anticipates that Saudi Arabia's market share for crude imports from China will drop to 31% in July from an earlier 35% in June. Russia's shipments to China are also expected to drop by more than 20%.
Article continues below advertisement
Spreads between Brent and Dubai crude narrow
The shift in Chinese import patterns in July was driven by a downward trend in the premium between crude prices based on Brent, such as the ones from Angola, and those based on Dubai, such as Russia's Eastern Siberia-Pacific Ocean (or ESPO) and Saudi grades.
Saudi Arabia likely to lower official prices of crude oil
Due to the trend in Chinese imports, Russia and Saudi Arabia will have to offer more competitive prices in order to maintain their market share in China. This probably implies that the Saudis may cut official selling prices (or OSP) soon for crudes to Asian refiners.