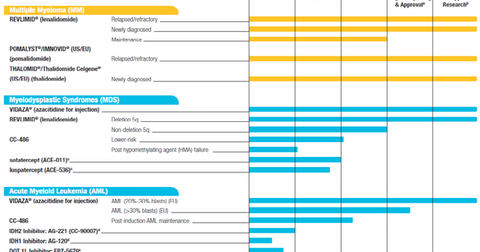 Celgene's Far-Reaching Hematology and Oncology Research Pipeline
By Margaret Patrick

Updated
Hematology and oncology research
Celgene Corporation (CELG) is actively involved in expanding the label indications of its successful hematology and oncology drugs, Revlimid and Pomalyst. The company also conducts post-approval research for ensuring the safety and efficacy of its drugs.
The above graph shows the current status of Celgene's research pipeline for its MM (multiple myeloma), MDS (myelodysplastic syndromes), and AML (acute myeloid leukemia) cancer drugs.
Article continues below advertisement
Multiple myeloma
According to WebMd, MM is "cancer that affects plasma cells, a kind of white blood cell found in the soft insides of your bones, called marrow."
Revlimid, Celgene's most successful drug, was originally used as a second-line treatment for MM. But in February 2015, the drug was approved as a first-line treatment for newly diagnosed MM patients. As Revlimid is now being researched as an ongoing maintenance drug for MM patients, Celgene could become a one-stop solution for all MM-related conditions because it already has Pomalyst, a third-line treatment for MM patients. The findings of this ongoing research is expected to strengthen Celgene's position in the MM market, despite tough competition from Amgen's (AMGN) Kyprolis, Novartis's (NVS) Farydak, and Takeda Pharmaceutical Company's and Johnson & Johnson's (JNJ) Velcade.
Myelodysplastic syndrome
Celgene has succeeded in expanding the labels of its existing drugs to include MDS, a group of cancers that affect the lymphatic system or immune system. Revlimid has been approved for a rare form of MDS called deletion 5q, and the drug is currently in phase III clinical trials for non-5q MDS. Vidaza, an azacitidine injectable drug for MDS, lost its patent protection in 2011 and has since then been facing tough generic competition in the MDS market. CC 486 is an oral form of azacitidine, which has been explored as a substitute to Vidaza for low-risk MDS patients.
Acute myeloid leukemia
WebMd describes AML as a type of leukemia that "starts in the bone marrow," the cells of which "don't mature the way they're supposed to," but instead "just keep building up." Celgene is currently exploring Vidaza and CC 486 for patients suffering from AML.
Investors can get exposure to Celgene's strong hematology pipeline while avoiding unique company risks by investing in the iShares NASDAQ Biotechnology ETF (IBB). Celgene makes up 8.66% of IBB's total holdings.