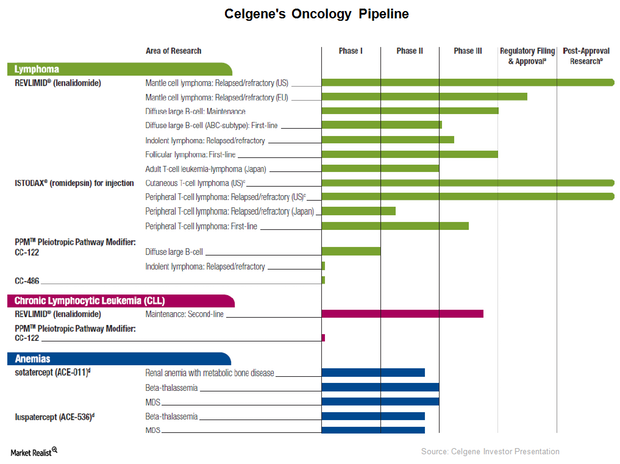 Celgene's Aggressive Label Expansion Program
By Margaret Patrick

Sep. 1 2015, Updated 9:06 a.m. ET
Label expansion
To diversify its revenue stream from the MM (multiple myeloma) cancer drug market, Celgene Corporation (CELG) is actively researching its existing drugs for additional uses. The graph below shows the current status of Celgene's pipeline for lymphoma, chronic lymphocytic leukemia, and anemias.
Article continues below advertisement
Lymphoma
According to WebMd, lymphoma is "cancer that begins in infection-fighting cells of the immune system, called lymphocytes." These cells are found in the "lymph nodes, spleen, thymus, bone marrow, and other parts of the body" and can "change and grow out of control." Lymphomas are further classified according to the type of the lymphocyte that is affected.
Revlimid, Celgene's most successful drug for MM, is being currently being explored for treatments of different types of lymphomas. Already approved for mantle cell lymphoma in the US, Revlimid is in review phase in Europe. Additionally, Revlimid is being studied for other types of lymphomas, such as diffuse large B-cell lymphoma, indolent lymphoma, follicular lymphoma, and adult T-cell leukemia-lymphoma. Leukemia differs from lymphoma in that leukemia affects the blood-forming cells in the bone marrow, rather than the lymphocytes in the immune system.
Celgene obtained Istodax through the acquisition of Gloucester Pharmaceuticals in January 2010. The drug has been approved for CTCL (cutaneous T-cell lymphoma) and PTCL (peripheral T-cell lymphoma) in the US, and it is also being reviewed as a first-line treatment for PTCL in Japan. The CHMP (Committee for Medicinal Products for Human Use) in Europe, however, gave Istodax a negative recommendation for the treatment of PTCL, a setback that has limited its growth in markets outside the US.
Article continues below advertisement
Chronic lymphocytic leukemia
The National Cancer Institute describes CLL (chronic lymphocytic leukemia) as "a type of cancer in which the bone marrow makes too many lymphocytes (a type of white blood cell)." Currently in phase III trials, Revlimid is being explored as a second-line maintenance drug for CLL patients. If approved, Revlimid will enter a CLL market currently dominated by Pharmacyclics's (PCYC) and Johnson & Johnson's (JNJ) Ibrutinib, Gilead Sciences' (GILD) Idelalisib, and Roche Holding's (RHHBY) Gazyva.
Anemia
According to WebMd, anemia is "a condition that develops when your blood lacks enough healthy red blood cells," or hemoglobin, which is "a main part of red blood cells and binds oxygen." If you have "too few or abnormal red blood cells, or your hemoglobin is abnormal or low, the cells in your body will not get enough oxygen." Celgene is also involved in developing drugs for various types of anemias such as renal anemia and beta thalassemia.
Investors can get exposure to Celgene's label expansion research projects while avoiding unique company risks by investing in the iShares NASDAQ Biotechnology ETF (IBB). Celgene makes up 8.66% of IBB's total holdings.