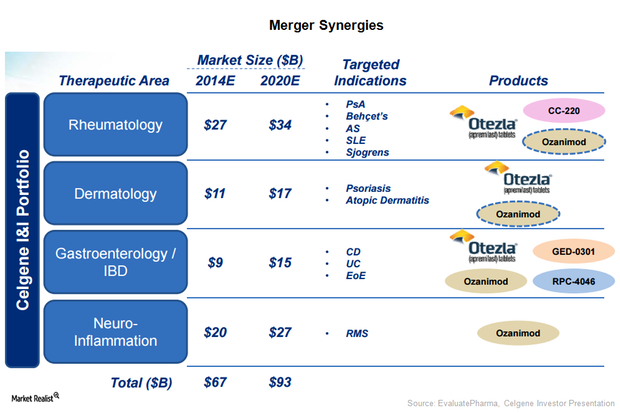 Celgene Announces Receptos Acquisition
By Margaret Patrick

Sep. 3 2015, Updated 9:06 a.m. ET
The looming acquisition
On July 14, 2015, Celgene Corporation (CELG) announced that it just signed a definitive agreement to acquire Receptos, a pharmaceutical company that develops therapeutics in immune disorders, for $7.2 billion. When the deal goes into effect, Celgene expects its revenue target for 2020 to exceed $21 billion. By 2020, Celgene's hematology, oncology, and I&I (inflammation and immunity) drugs are expected to earn revenues exceeding $14.8 billion, $2.2 billion, and $4 billion, respectively.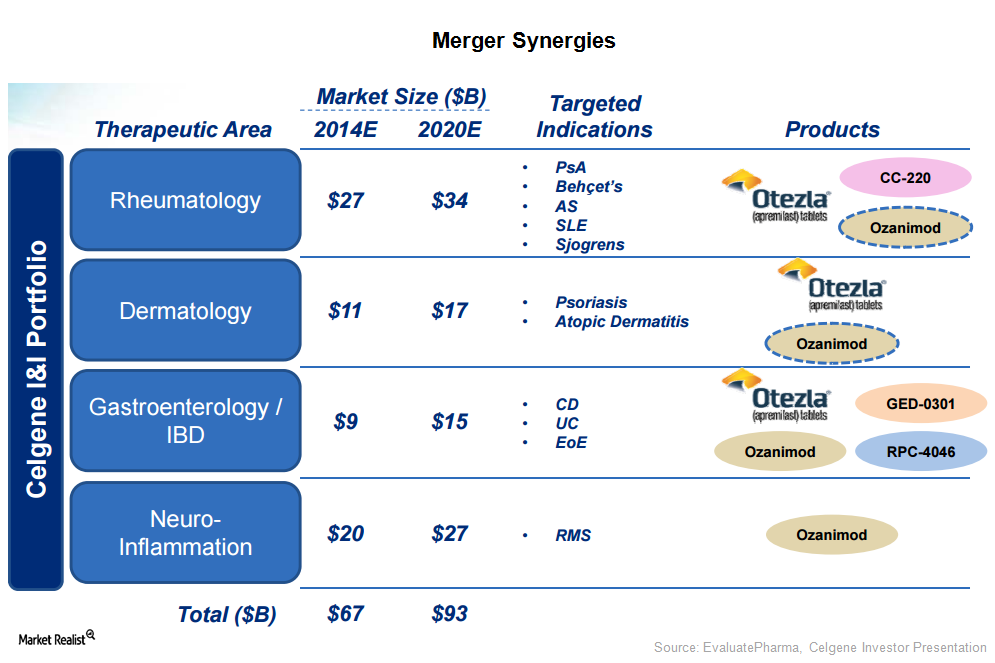 On August 11, 2015, US antitrust authorities approved the Celgene-Receptos agreement, satisfying one of the conditions required to close the deal, which Celgene hopes will strengthen its position in the I&I market while effectively diversifying its revenue streams.
Article continues below advertisement
The strong inflammation and immunology market
The above graph shows the synergies that Celgene will realize in the I&I market as a result of its acquisition of Receptos. This deal should, in fact, help Celgene expand its footprint in all sub-segments of the I&I market.
By 2020, the I&I market in the US is expected to have increased from $67 billion (in 2014) to $93 billion. The acquisition of Receptos will add to Celgene's product portfolio a potential blockbuster drug called Ozanimod, a drug that is in late-stage research and has projected peak sales of between $4 billion and $6 billion. Ozanimod managed to meet key endpoints in its phase II clinical trials for both ulcerative colitis and multiple sclerosis, and the drug has also shown a strong safety profile. In the future, the drug could also be explored for use across other markets, such as rheumatology, dermatology, gastroenterology, and neuroinflammation.
Receptos will also add a drug called RPC4046, which is in Phase II clinical trials for eosinophilic esophagitis (an irritation of the esophagus due to white blood cells), to Celgene's portfolio. RPC4046 currently has no Food and Drug Administration-approved competitor in the market, meaning it could become a profitable candidate for Celgene.
New access to large markets
Ozanimod is expected to become one of the few approved therapies for moderate-to-severe cases of irritable bowel syndrome, a disease with a market potential of ~$9 billion. Ozanimod could also prove to be more successful than the other drugs in the $20 billion multiple sclerosis market, such as Biogen's (BIIB) Tecfidera, Merck & Company's (MRK) Rebif, and Teva Pharmaceutical Industries' (TEVA) Copaxone.
If the acquisition of Receptos is completed, investors can get exposure to Celgene's strong I&I portfolio while avoiding company-specific risks by investing in the iShares NASDAQ Biotechnology ETF (IBB). Celgene makes up 8.66% of IBB's total holdings.