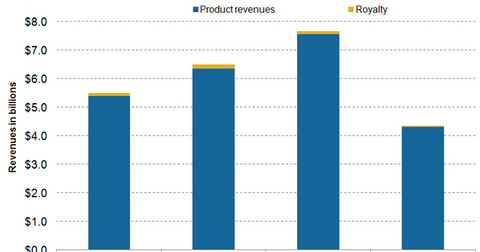 Celgene 101: Business Model
By Margaret Patrick

Aug. 27 2015, Published 1:46 p.m. ET
Model overview
Celgene Corporation (CELG) generates revenues through its own product sales and through other revenues, which primarily consist of royalties from Novartis.
Article continues below advertisement
Celgene has been a leading biotechnology company in areas such as hematology, or blood-related diseases, and oncology, or cancer. The company has a strong portfolio of drugs such as Revlimid, Abraxane, Pomalyst, Vidaza, Thalomid, Otezla, and Istodax.
Hematology and oncology
Multiple myeloma, or MM, is the major driver of Celgene's revenues. According to WebMd, multiple myeloma is a "cancer that affects plasma cells, a kind of white blood cell found in the soft insides of your bones, called marrow." Over time, these plasma cells continue to multiply uncontrollably, eventually traveling out of the bone marrow to other parts of the body through the blood. In addition to compromising the body's immune system, the disease leads to anemia, as well as to kidney and bone problems.
Article continues below advertisement
Doctors usually prescribe Thalidomide (brand name Thalomid), in combination with a dexamethasone compound, as a first-line treatment for newly diagnosed MM patients. Thalidomide was also the first oral drug to be approved by the FDA (Food and Drug Administration) for MM. Celgene later introduced Revlimid, a derivative of Thalomid with better efficacy and a higher safety profile than the parent drug. In 2014, Revlimid, which was approved by the FDA as a second-line treatment for MM, managed to earn ~$5 billion in revenues. Celgene's revenues are highly dependent on this blockbuster therapy, as the drug accounts for about 65% of the company's total revenues.
In 2013, the FDA approved another of Celgene's drugs, Pomalyst, as a third-line treatment for patients suffering fr0m advanced MM. According to the International Myeloma Foundation, there are about 750,000 people suffering from MM around the world. Although this number is relatively small, Celgene is expected to earn substantial revenues as its drugs continue to enter markets outside the US. The company, however, still faces tough competition in the global MM market from Amgen's (AMGN) Kyprolis, Novartis's (NVS) Farydak, and Takeda Pharmaceutical Company's (TYO) and Johnson & Johnson's (JNJ) Velcade.
The FDA has also approved Revlimid for other types of cancer, such as MDS (myelodysplastic syndromes) and mantle cell lymphoma, while Thalomid has been approved for erythema nodosum leprosum, a leprosy-related complication.
In 2011, Celgene's Vidaza, another major drug targeting MDS patients, lost its patent exclusivity, which has led to generic competition and lost revenues.
Diversification
To reduce its over-reliance on blood-related cancers, Celgene has launched drugs such as Abraxane, Otezla, and Istodax. Abraxane is a drug approved for breast cancer, non-small cell lung cancer, pancreatic cancer, and gastric cancer, while Istodax targets T-cell lymphoma. Celgene has also entered the psoriasis and psoriatic arthritis markets through its drug Otezla.
Investors can get diversified exposure to Celgene's strong drug portfolio while avoiding unique company risks by investing in the iShares NASDAQ Biotechnology ETF (IBB). Celgene makes up 8.66% of IBB's total holdings.