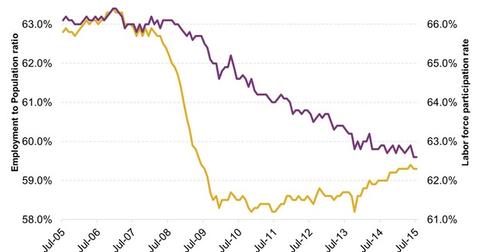 Can Persistent Labor Market Slack Delay a Rate Hike in the US?
By David Ashworth

Updated
What is labor market slack?
Labor market slack refers to the underutilization of the available workforce. An indicator that measures slack in the labor market is the labor force participation rate. This rate is calculated by the number of people actively looking for jobs divided by the number of people willing and able to work.
An important factor to consider while studying this rate is that as job market conditions improve, it would bring some people back to the employment market who may have lost hope of getting a job earlier. This would increase the labor force participation rate as the number of people actively looking for jobs will increase. However, the unemployment rate could rise if enough jobs are not being created.
Article continues below advertisement
Labor market slack needs to improve
We had mentioned in the previous article that although policymakers are satisfied with the fall in the unemployment rate, there is room for improvement. However, the area of labor market slack needs improvement.
In the graph above, the employment-to-population ratio has shown a clear rising trend from the trough of October 2013 and is inching closer toward 60%. However, the labor force participation rate continues to trend down and is below its ten-year average of 64.7%. Some of that fall can be attributed to people leaving the workforce completely. But even then, the rate is lower than where policymakers would like it to be.
The Fed's view
Policymakers had some positive views regarding labor market slack in their July 2015 policy statement. They stated, "On balance, a range of labor market indicators suggests that underutilization of labor resources has diminished since early this year."
However, further improvement is warranted, otherwise a persistent slack may place upward force on the unemployment rate, possibly delaying a rate hike in the US.
More people with jobs and disposable income indicates good business for companies like The Procter & Gamble Company (PG), Altria Group (MO), Walgreens Boots Alliance (WBA), and Pepsico (PEP). This would also benefit the Consumer Staples Select Sector SPDR Fund (XLP), which holds 26.3% of these companies in its the total assets.
In the next article of this series, we'll look at the housing market in the US and the Fed's view on it.