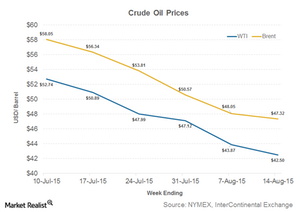 Can Coal Benefit from Falling Crude Oil Prices?
By Mike Sonnenberg

Aug. 19 2015, Updated 8:07 a.m. ET
Crude oil prices
WTI (West Texas Intermediate) crude oil prices fell for the seventh straight week during the week ended August 14. They averaged below $50 per barrel for the fourth consecutive week. WTI averaged $42.50 per barrel during the week ended August 14 compared to $43.87 during the week ended August 7. The majority of the fall came on August 13 in reaction to the EIA's report, which said that crude oil inventories at Cushing, Oklahoma, rose by over 1.3 million barrels. Deliveries for US crude oil futures happen at Cushing.
Article continues below advertisement
The average Brent crude oil price dropped by $0.73 to $47.32 per barrel for the week ended August 14 compared to $48.05 a week earlier. A continued glut, coupled with concerns over China's growth prospects, pulled crude oil prices down. Weak crude oil prices may force American producers to cut production.
Why are crude oil prices important for coal producers?
While coal and crude oil don't directly compete with each other as fuels, it's important for coal investors to track crude oil prices. Coal producers (KOL) like Alliance Resource Partners (ARLP), Arch Coal (ACI), Peabody Energy (BTU), and Cloud Peak Energy (CLD) are affected in various ways by falling crude oil prices.
Crude oil prices are a mixed driver for the coal industry (KOL) in the United States. On the one hand, a fall in crude oil prices results in a fall in fuel costs. Weakness in crude oil prices may encourage US crude oil producers to cut down production, pressuring freight rates. Plus, if crude oil production falls, there would be more railcars available to transport coal. Coal producers based in the Powder River Basin faced severe rail availability issues in 2014.
Moreover, energy stocks, including coal stocks, generally follow crude oil prices. The fall in crude oil prices in 2H14 pulled all energy-related stocks down. On the other hand, a rise in oil prices leads to a rise in fuel costs for coal producers. But a rise in crude oil prices also signals positive sentiments for the overall energy sector.
For utilities (XLU), the impact of oil prices isn't significant, as oil isn't a major fuel that powers electricity generation in the United States.