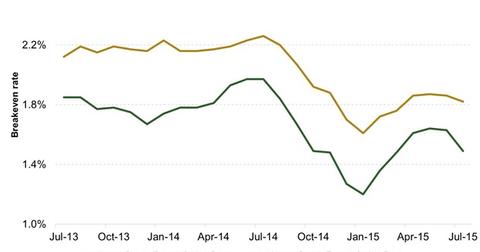 Why Is Break-Even Inflation Falling in the United States?
By David Ashworth

Updated
What is break-even inflation?
Policymakers at the Federal Reserve look at market-based inflation expectations while assessing the path of inflation. In order to understand these better, we need to outline the concept of break-even inflation.
Break-even inflation rate is used to assess the inflation expectation of market participants. The above graph represents the difference between the nominal yield on a fixed-rate bond of a certain duration and the real yield on an inflation-indexed bond of the same maturity and credit quality.
Real yield is nominal yield adjusted for inflation. So the five-year break-even inflation rate is the difference between the nominal yield on the five-year Treasury note and the real yield on the five-year TIPS (Treasury Inflation Protected Securities).
Article continues below advertisement
What does the graph indicate?
The graph indicates that market participants are expecting inflation to remain lower than 2% over five-year and ten-year periods. The recent downturn is similar to the one seen after July 2014. The reason is also the same—a fall in crude oil prices.
According to data from the EIA (U.S. Energy Information Administration), WTI (West Texas Intermediate) prices for Cushing, Oklahoma, fell to $41.93 per barrel on August 17. It was the lowest since early March 2009. This has hurt stocks of oil companies such as Kinder Morgan (KMI), Chevron (CVX), and ConocoPhillips (COP).
Related ETFs such as the iShares US Energy ETF (IYE) and the United States Oil ETF (USO) have also fallen sharply in the last one month.
One important thing to notice, though, is that the downturn in ten-year break-even inflation isn't as sharp as the downturn in five-year break-even inflation. If this movement continues, it would indicate that market participants aren't expecting this fall in crude oil prices to impact inflation ten years from now as sharply as it impacted the metric last year.
For fixed-income investors, another indicator of importance is term premium. We'll look at that in the next article.