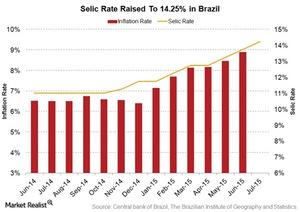 Brazil's SELIC Rate Rises to 14.25% yet Inflation Continues to Soar
By Surbhi Jain

Nov. 20 2020, Updated 1:11 p.m. ET
SELIC rate rises to 14.25% in Brazil
The Central Bank of Brazil has attempted to rein in inflation by raising Brazil's key interest rate, also known as the SELIC rate. However, inflation remains the center point of discussion with respect to the Brazilian economy.
The rate was recently raised in yet another attempt to restrict soaring inflation. On July 30, the Central Bank of Brazil raised the SELIC rate by 50 basis points to 14.25%.
Article continues below advertisement
Monetary policy paradox
In Brazil, the SELIC rate has reached 14.25%, up from 11% in the middle of last year. Brazil's inflation rate stood at 8.89%, according to the June reading reported by the Brazilian Institute of Geography and Statistics.
A rise in the key rate in the economy makes borrowing expensive. This should deter investments and spending, thereby exerting downward pressure on prices as less money changes hands. This should help rein in inflation. However, that doesn't seem to be the case in Brazil.
The exact opposite policy tool is finding use in the United States and the Eurozone, where the central banks are aiming to pump up inflation by keeping their respective key rates near zero.
Brazilian stock market has declined by ~42%
The Brazilian stock market (EWZ) has fallen by about 42% over the past year. This fall almost coincides with the Brazilian real's depreciation, which started in September 2014. The real has continued to depreciate since then. The ADRs (American depository receipts) of Brazilian firms Itaú Unibanco (ITUB), Petrobras (PBR), and Vale (VALE) have lost about 43.71%, 57.74%, and 62.83%, respectively, over the past year.
Stay updated on our latest analysis on the US, Eurozone, and world (ACWI) macro environments by visiting Market Realist's Macro ETF Analysis page.