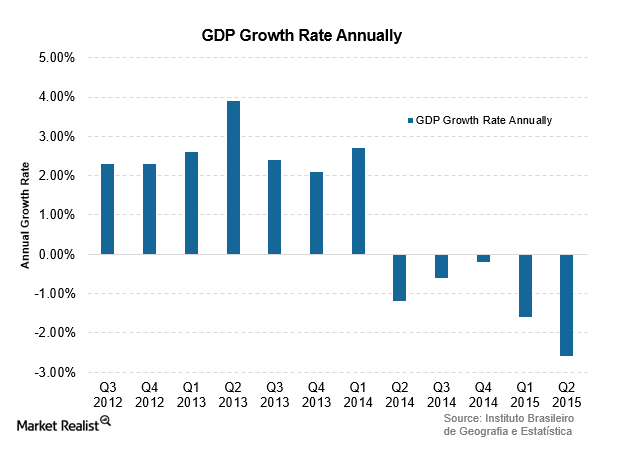 Brazilian Real Is Trading near 12-Year Lows
Brazilian real is on a negative slope
The Brazilian real fell by 0.88% against the US dollar on August 28, 2015. GDP (gross domestic product) data for the second quarter confirmed a contraction in the economy. The real had been trading strong in the previous two sessions. It suffered a massive fall as reports witnessed negative growth in the Brazilian economy on a quarterly and annual level. In the last week, as economies slither through tumultuous times, the real has weakened to levels above 3.60 against the US dollar. These levels haven't been seen in the last 12 years.
Article continues below advertisement
Second quarter GDP signals a contraction
Brazil's GDP growth fell in 2Q15 by -1.90%—compared to the previous quarter. This is the lowest fall since 2009. On a YoY (year-over-year) basis, the GDP fell by -2.60%—compared to the same quarter last year. A fall in the prices of agricultural products and commodities, due to the slowdown in the Chinese economy, has been an important factor contributing towards the fall. Rising unemployment levels, high inflation, and tightening of the liquidity to consumers have also led to the contraction in the economy.
Impact on the market
ETFs in Latin America were trading on a negative note on August 28, 2015. The iShares MSCI Brazil Capped ETF (EWZ) fell by -2.27% while the iShares Latin America 40 ETF (ILF) fell by -1.24%.
Brazilian ADRs (American Depository Receipts) were also on a negative slope. Vale SA (VALE) fell by -3.40% while Cia Siderurgica Nacional SA (SID) fell by -2.11%. Gerdau SA (GGB) fell by -3.90% at the end of the day.