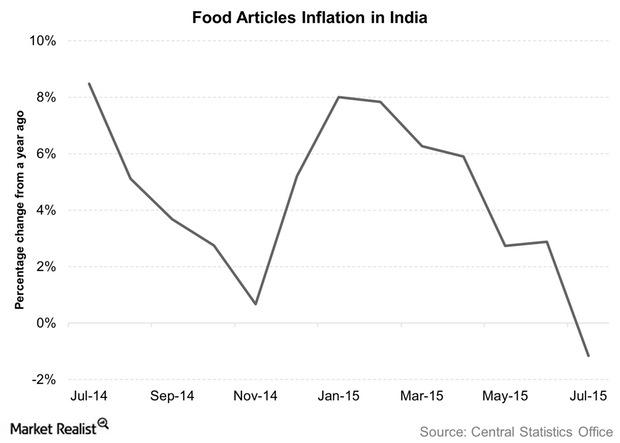 Big Forces Behind India's Future Monetary Policy
By David Ashworth

Dec. 4 2020, Updated 10:52 a.m. ET
Trajectory of policy decisions
The following factors will have the largest influence on India's future monetary policy:
the speed of rate cut transmissions by commercial banks
the pace of retail inflation vis-à-vis its target
monetary policy actions by the Fed (US Federal Reserve)
Article continues below advertisement
Rate cut transmission
As we saw in part 2 of this series, Indian commercial banks like ICICI Bank Limited (IBN) and HDFC Bank Limited (HDB) have so far not transmitted the quantum of the RBI's (Reserve Bank of India) rate cuts enacted in 2015. These delays are stifling credit growth, leaving consumers and corporates are hesitant to take loans from banks at levels that seem overpriced.
Prompt action by banks on this front could help the RBI make further rate reductions.
Retail inflation
The pace of retail, or CPI (consumer price index) inflation, is going to be the key determinant of monetary policy in India. Though its current level is low, core inflation, which excludes food and fuel prices, has still hardened. The Indian government has also increased the service tax effective from June 2015—an increase that is expected to push inflation up, but which isn't fully reflected yet in the CPI.
Article continues below advertisement
Food prices are a key determinant of overall inflation. As shown the graph above, while overall food prices have actually declined, prices of a few items have risen sharply. Monsoon rains are a key factor in determining food prices. According to weather authorities, rains are expected to be lower than usual this season. But if rainfall picks up in August and September, it would help crop production, thus putting downward pressure on retail inflation.
A fall in fuel prices since June, which have hurt energy companies like Exxon Mobil Corporation (XOM), ConocoPhillips (COP), and Halliburton Company (HAL), as well as related ETFs like the United States Oil Fund (USO) and the iShares Dow Jones US Energy Sector (IYE), could help keep inflation in check, even if food prices harden in face of deficient rainfall.
US monetary policy
India, being an emerging market, is expected to face outflows whenever the Fed raises rates. The RBI is thus keeping a close watch on the Fed, maintaining that it is equipped to handle a rate hike in the US.
In the next article in this series, we'll look at China's recent move to devalue the yuan—another factor that could influence monetary policy in India.