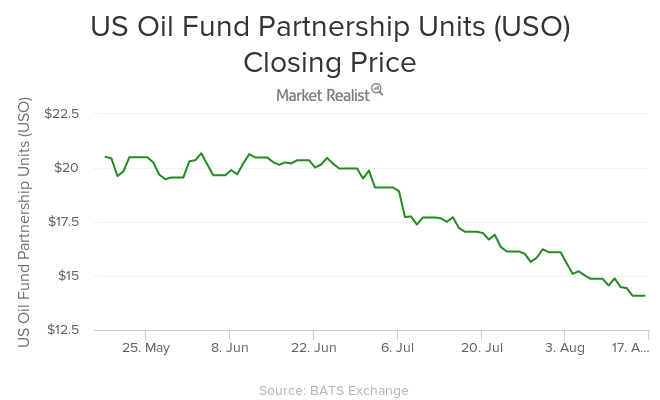 Bear Market: Crude Oil Prices Hit March 2009 Lows
Crude oil prices movement
This series analyzes crude oil prices and fundamentals. For an in-depth fundamental look at oil and gas and related companies, sectors, and drivers, please refer to our Energy and Power page.
September WTI (West Texas Intermediate) crude oil futures contracts trading in NYMEX rose slightly by 0.64% and closed at $42.50 per barrel on August 14, 2015. Oil prices rose despite oversupply concerns due to possible bottom fishing. ETFs like the United States Oil Fund LP (USO) and the ProShares Ultra DJ-UBS Crude Oil (UCO) diverged from the direction of US crude oil prices in Friday's trade. These ETFs fell marginally by 0.71% and 1.42%, respectively, on August 14, 2015.
[marketrealist-chart id=597728]
Crude oil prices might have risen slightly due to bottom fishing or short covering. Some traders might have thought this opportunity would continue. However, the recent consensus of the rising Cushing stockpile in the oversupplied market could drag crude oil prices lower.
On Friday, August 14, 2015, the US Dollar Index appreciated against the global currencies. The improving US economic conditions supported the US dollar. The appreciating dollar puts downward pressure on crude oil prices.
Baker Hughes reported that the crude oil rig count rose for the fourth consecutive week despite the catastrophic fall in crude oil prices. This shows that the oil bear market isn't over.
Iran's nuclear accord and easing of the oil sanctions by the end of 2015 could step up Iran's output by 100,000 bpd (barrels per day). The record output from the US, Russia, and the Middle East will continue to extend the crude oil bear market.
The slowing of demand from China to the US could also fuel pessimistic sentiments. In contrast, rising imports from India and South Korea could benefit crude oil prices.
The devaluation of the Chinese yuan could also make crude oil imports expensive for the second largest consumer and largest importer of crude oil.
There's speculation of a demand collapse as the summer driving season nears an end. The beginning of refineries' maintenance season could also add pressure to US crude oil prices.
Crude oil prices have lost more than 31% since the peak of $62 per barrel in May 2015. Hedge fund managers have reduced their bullish bets to the lowest level since 2010, according to the data from the CFTC (U.S. Commodity Futures Trading Commission).
The collateral damage of crude oil prices has affected domestic and international oil producers like BP (BP), ExxonMobil (XOM), and Total (TOT). Companies like Chevron and ExxonMobil have posted their lowest profit in many years.
Article continues below advertisement
This is the fifth up day for US crude oil prices in the last ten trading sessions. Prices rose by 2% more on the average down days than on the average up days in the last ten days. Crude oil prices fared well against other commodities in yesterday's trade. Oil prices fell by 21.23% YTD (year-to-date) due to oversupply concerns.